Health professionals and educators Wednesday welcomed a Ministry of Health (MOH) decision to ban the use of electroshock therapy in the treatment of Internet addiction.
Linyi Psychiatric Hospital in Shandong province, where staff had administered electric shocks to more than 3,000 youths in a bid to halt Internet dependency, ended the controversial treatment this week.
In a statement released on its website on Monday, the MOH said it told the Shandong health bureau to stop electroshock therapy for Internet addicts in the province's hospitals after MOH research revealed issues surrounding the safety and efficacy of the treatment.
Related readings:


 Electroshock therapy given to young Net addicts


 Clinic expert defends his Internet-addiction claim in face of criticism


 Internet addiction not just 'bad habit'
"It (the electroshock therapy) is understandable given the desperation of parents, but it may damage children's brains," said Tao Ran, who runs one of the country's longest-established clinics specializing in Internet addiction.
Co-founded by the Central Committee of the Communist Youth League of China and Beijing Military Region General Hospital in 2004, Tao's clinic in the suburbs of Beijing has treated nearly 5,000 Internet-addicted youths and says 75 percent have been cured.
At the clinic, young addicts receive "comprehensive therapy" including medication, psychological counseling and low-intensity military training. They also take interactive courses with their parents to learn communication skills.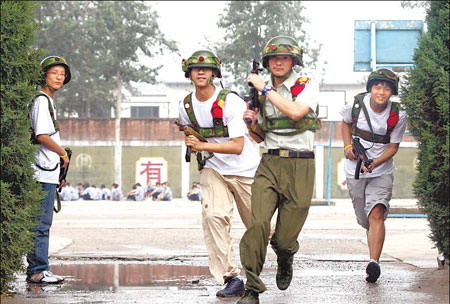 Young men play a war game at a rehabilitation center for Internet addicts in Beijing. China has banned the use of electroshock therapy in treating Web addicts. [File photo]

Tao also uses psychotropic drugs to treat patients suffering from mental illnesses such as attention deficit hyperactivity disorder, anxiety and depression.
Another clinic in Beijing adopts a slightly different approach.
"We think Internet addiction is not a mental illness, but an appearance of lacking ability and confidence," said Jiang Pu, Beijing bureau director of New Taste Family Education Institute - an organization trying to break Internet dependency in teenagers.
"The lack of a nationwide diagnostic standard on Internet addiction causes the differences in the treatment methods," said Tao, who is a colonel with the People's Liberation Army.
Even the World Health Organization and countries including the United States have not developed a clear understanding of Internet addiction, he said.
The Linyi Psychiatric Hospital ended its electroshock therapy program on Monday, but still offers other types of treatment, Beijing News quoted the hospital's publicity division head, Yang Shuyun, as saying.
The electroshock and psychotropic drug treatment had cost patients 5,500 yuan ($805) a month.
As of the first quarter of the year, China had around 320 million Internet users, according to vice-minister of Industry and Information Technology Xi Guohua.
Many Internet addiction treatment centers have opened in recent years, offering a wide range of treatment options. The many types of treatment reflects the fact that the addiction is not classified as a mental illness, said experts.
Specialists, including Tao, came up with a diagnostic definition of Internet addiction last year after four years of study and analysis of more than 1,300 cases. The standard has not yet been endorsed by the MOH.