AIDS patient Li Wei lost his discrimination case against a domestic insurance company last month. He's now appealing as insurance companies have been required by the industry to abolish discriminatory contracts targeting policyholders like him.
The Insurance Association of China, for the first time, in a document issued last week requires insurance companies to scrap liability exempt clauses for policyholders with HIV/AIDS in accidental death or disability and long-term insurance coverage by Oct 1.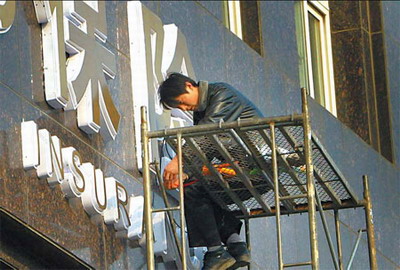 A worker fixes a signboard for an insurance company in Nanjing, capital of Jiangsu province. HIV/AIDS patients will be able to benefit from life insurance programs under a proposed rule. [File photo/China Daily]
"Finally the good news has come for China's 700,000 people living with HIV/AIDS, including me, regarding rights for insurance," Li said Tuesday.
Li, a 32-year-old Yunnan native, purchased an accidental insurance package with Ping'an Life Insurance Company in early 2008. Later he filed a lawsuit against Ping'an after finding HIV/AIDS conditions in its compensation exempt clauses, which are usually reserved for things like war, military operations, riot, armed rebellion and nuclear radiation.
"This long-overdue correction will help me win my case and deal a blow to HIV/AIDS discrimination in the insurance industry," he told China Daily Tuesday.
Tang Rong, the lawyer who represented Li in court, said this change is only a partial victory.
"We'll closely watch Ping'an and other insurance companies on whether they'll follow the new rules," he said.
Related readings:


 New HIV/AIDS cases surge in Beijing


 HIV/AIDS victims still battling bias


 Post offices spread word about HIV prevention


 Gay men HIV cases quintuple in Shanghai


 New HIV battle plan
Currently, such discriminatory clauses can be found in accident insurance contracts made by almost all domestic insurance companies.
Xia Guomei with the Shanghai Academy of Social Sciences said the correction is a symbol of the increased understanding of HIV/AIDS among the insurance industry.
Given AIDS is now widely known as just a chronic infectious disease, the injury and medical compensation for incidents like traffic accidents should not be linked to a person's HIV/AIDS status, she said.
Wang Xiaoguang, deputy director of the Yunnan Daytop Drug Abuse Treatment and Rehabilitation Center, a civil society that helped Li with his lawsuit, said they welcome such a document.
"But as it's nonbinding it's still far from our expectation for the government to legally and forcefully stop HIV/AIDS related discrimination in all aspects including insurance, education, employment and medical care," he said.
Hao Yang, deputy director with the Disease Control and Prevention Bureau under the Ministry of Health, said: "We are glad to see the positive change and hope insurance companies strictly follow the new document."
Li's contract clearly discriminates against HIV-positive people as there is no link between being HIV-positive and the chance of having an accident, he said.
Despite the fact that China has an AIDS control and prevention regulation that protects the rights of people living with HIV/AIDS, discrimination and stigma against sufferers is still rife.
Up to 65 percent of the general public discriminates against HIV/AIDS sufferers, according to a recent survey by the Chinese Center of Disease Control and Prevention.