Martial arts have been an interest of Shaquille O'Neal, and he paid an emotional visit Monday to the Shaolin Temple in Henan province.
"I've been a lot of places but being at the Shaolin Temple has brought a tear to my eye. Buddha blessed," the NBA superstar center wrote on his blog.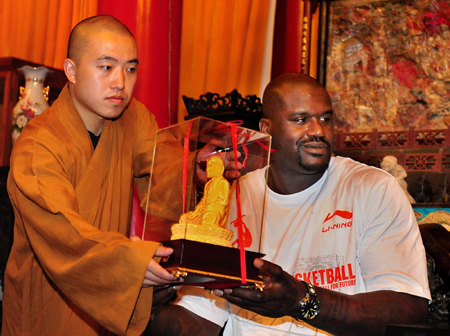 NBA Cleveland Cavaliers center Shaquille O'Neal (R) receives a Buddha statue, a gift from Shi Yongxin (not pictured), abbot of Shaolin Temple, during his promotional tour in Shaolin Temple, central China's Henan province, July 13, 2009. [Xinhua] 
The 7-foot-1, 325-pound giant has seen lots of action movies about Chinese martial arts and has been involved in learning the art, but having a face-to-face experience with the warrior monks in the birthplace of Shaolin Kungfu - with a history of more than one and a half thousand years - was a lofty experience.
O'Neal said visiting the temple, birthplace of Zen Buddhism, was not on his China tour schedule, but he could not resist the temptation.
He was able to meet Shi Yongxin, abbot of the temple, and spent time discussing Zen (a school of Mahayana Buddhism, translated from the Chinese word Chan).
Zen is believed to be the wisdom behind Shaolin and what makes Shaolin Kungfu unique and powerful.
After that, O'Neal watched kungfu performances by the monk and was impressed with the Snake Style and Drunken Style.
O'Neal promised to come back and spend more time to learn Zen and Shaolin Kungfu.
Related readings:


 Controversial abbot named inheritor of Shaolin kungfu


 Luxury cassock cloaks luster of famed Shaolin Temple


 Shaolin monks perform martial arts in Singapore


 Shaolin Temple in HK 'will boost tourism'


 10 Shaolin monks sent to Yunnan


 'CEO monk' to franchise Kungfu Shaolin shrine
Shi gave O'Neal a statue of Bodhidarma, founder of Shaolin Kungfu, and special sticking plaster, which is believed to help in healing.
A jubilant O'Neal also signed "I love you very much. Peace be with you" in the temple.
In the US, O'Neal, who has joined LeBron James on the Cleveland Cavaliers for the next season, is also catching on to the benefits of learning mixed martial arts and is spending his off-season training at Jonathan Burke's Gracie Gym in Orlando, Florida.
Going by his old nickname, Diesel, he's been training with Burke at his gym for 10 years, where he does the full gamut of mixed martial arts, boxing, jiu-jitsu, Muay Thai and wrestling.
A fan of wrestling, O'Neal has attended many World Wrestling Entertainment events.
O'Neal has also been involved in action movies and video games.
He appeared in a US Sports Center TV commercial dressed in a Miami police uniform, rescuing "Mike the Tiger" from a tree.
O'Neal was also a support character in the movie Blue Chips with Nick Nolte.
He also reportedly wanted a role in the film X2 (the second in the X-Men movie in the series).
In the Ultimate Showdown of Ultimate Destiny, in which he is seen fighting Godzilla, O'Neal survives a collision with the Batmobile.
Because he is a fan of the Man of Steel, Static Shock creators had hoped to have O'Neal and Superman meet in a Season 3 episode, but O'Neal was not located in time.
In video games, O'Neal starred in Shaq Fu, a fighting game for the Super Nintendo Entertainment System and Sega Genesis.
O'Neal has also appeared in Backyard Basketball 2004, Ready 2 Rumble Boxing: Round 2 as a playable boxer.