An earthquake shook southwest China on Thursday evening, claiming at least one life and injuring 342, said the local earthquake prevention and disaster reduction office.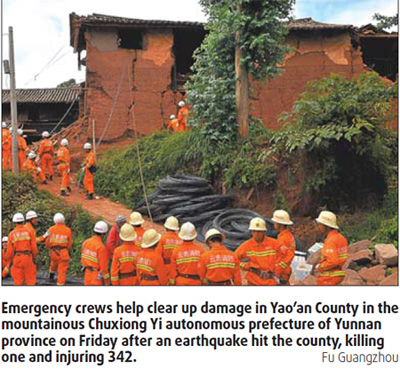 The 6.0 magnitude jolt, centered on Yao'an county, Yunnan province, destroyed almost 11,000 houses and damaged more than 45,000 other homes and was followed by several large aftershocks.
Some 1.26 million people were affected, according to official figures.
So far, 33,776 people in the county are in need of emergency shelter.
About 5,000 tents and 150 tons of tent fabric have been sent to quake-hit area.
The tent fabric is enough to make about 30,000 makeshift shelters.
The National Committee for Disaster Reduction and the Ministry of Civil Affairs initiated the national disaster emergency response system and a disaster relief team was dispatched on Friday.
More than 300 soldiers and hundreds of police have been sent to the disaster zone to help deal with the situation, Xinhua reported on Friday.
The Yunnan financial department has allocated 20 million yuan ($2.94 million) to Yao'an.
People can call 0871-5731838 to find out more about donations.
As of 7 am on Friday, 713 aftershocks had been felt in Yao'an, Gu Yishan, director of the provincial earthquake administration said on local television.
Strong tremors were felt in Chuxiong, Lijiang, Kunming and Dali Bai autonomous prefecture.
Yunnan is a quake-prone, mountainous region on the country's southwestern border with Thailand and Myanmar. Since 1976, the area has been hit by at least 15 earthquakes that have measured at least 6.0.
On Jan 15, 2000, a 6.5 magnitude earthquake caused seven deaths and 199 injuries in Yao'an. Almost 1 million people were affected and direct economic losses reached 1.1 billion yuan.