Property prices in China's 70 major cities climbed 0.2 percent in June, the first positive year-on-year growth since December 2008, the National Development and Reform Commission (NDRC) said on Friday.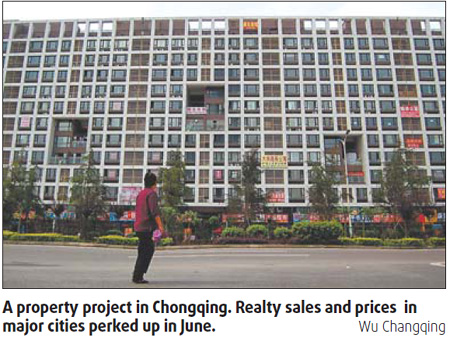 The month-on-month figure was also up 0.8 percent, with the growth rate 0.2 percentage points higher than in May, pointing to a further rebound in the property market.
Related readings:


 Property prices increase for four consecutive months


 Property developers trigger decline in shares


 Property firms eyeing overseas realty buys

 Property transactions up 20% in June


 Chinese shares up 0.92% led by property, coal shares
Thirty-four cities registered year-on-year increases in new residential building sales, with Yinchuan in Ningxia Hui autonomous region topping the list with a growth of 5.7 percent. Prices however, fell in 36 cities, with Shenzhen recording the biggest drop of 6.6 percent, the NDRC said.
"Some of the second-tier cities, such as Yinchuan, Xi'an and Shenyang, still have growth potential due to the comparatively low price base and rapid economic development," said Qin Xiaomei, head of research, Jones Lang LaSalle Beijing.
"Some regions located along the costal areas like Qingdao and Dalian, may probably see stable property prices as it has already peaked in the past few years," she said.
Though Beijing and Shanghai saw price falls on a yearly basis, the cities reported a month-on-month growth of 0.4 and 1 percentage points respectively.
But in some hot areas of these two cities, the price has skyrocketed to record highs of 2007, fueled by strong investment, purchase demand and higher land prices.
Cinda Haiyu Plaza, a commercial complex located along Beijing's CBD area, sold out 70 percent of its apartments on the first day of sales, said Tian Yuan, sales manager of the project.
According to Tian, the project used to have a stable sales growth in April, but after two pieces of land in the CBD area attracted record bids in May and June, sales perked up quickly.
"Around 80 percent of the buying is for investment purpose," said Tian.
"One of our customers, who is a Beijing resident, bought 12 units with one-off cash payment and the total value exceeded 10 million yuan." Another project along Beijing's north fifth ring road increased its price by 48 percent in June.