China's booming automobile industry is expected to sprint to the 12-million-unit threshold on the back of a sales surge during the first half of the year.
China sold 6.1 million vehicles in total in the first six months, a 17.69-percent increase over the previous year, the China Association of Automobile Manufacturers (CAAM) said in a statement Thursday.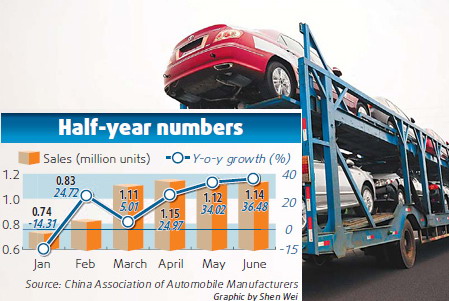 A truck transports a load of cars in Jiangsu province. [CFP]
Full year sales are now likely to comfortably breach the 10-million-unit barrier. China last year sold 9.38 million vehicles, a year-on-year increase of 6.7 percent over 2007 sales.
More impressive, the country has for four consecutive months sold more than a million vehicles in a single month, breaking the monthly sales record each month since March.
US auto sales plunged 35 percent in the first half to 4.8 million units, the slowest since 1982, according to Autodata Corp, a US marketing research firm. Average automobile sales in the US between 1999 and 2007 were 16.8 million units annually.
"China's passenger car segment, which got a stimulus due to the government's positive policies, has been the major power driving the whole vehicle market," said CAAM in the statement.
CAAM data showed that the passenger car segment contributed to the sales increase by 62.89 percent, as the government's tax reduction and subsidies spurred small car sales.
The strong market performance in the first half has made industry analysts double their growth rate forecast for 2009, from a pervious prediction of no more than 10 percent made during the beginning of the year.
"If the market demand won't drop clearly in July and August, which have always been the slack season for the auto market in China and which would be hit by the recent fuel price hikes, the whole year sales may reach 12 million units," said Li Suping, director of auto research at Ipsos, a global market research firm.
Related readings:


 Luxury car sales robust in 1st half in China


 China's auto sales surpass 1.14m units in June


 China surpasses US auto market in H1 sales


 Fiat signs joint venture with China's Guangzhou Auto


 China rolls out record 89 new auto models in H1


 Global Auto Industry Woes
Li told China Daily that if July sales plunged no more than 10 percent from June's, China would see a 20 to 30 percent increase in vehicle sales for the whole year. "The quarter-four sales are always hot and there will likely be a delivery peak at the end of the year," she said.
A recent survey by Ipsos showed robust future demand in China's auto market, with 76 percent of the interviewees saying they planned to buy a car in the next two years; among them, 32 percent planned to do so in the next one year itself.
Hui Yumei, an auto market researcher with Sinotrust Co, said China's 2009 vehicle sales would be between 11 and 12 million units if the oil price did not scare away many potential consumers. "The rapid growth, robust market performance and natural demand are strong evidence," Hui said.
Li Chunbo, an auto analyst with CITIC Securities, said that the auto market would see 18 percent growth this year, and a growth rate of between 10 and 15 percent over the next three years.