HONG KONG: China is at the start of another boom in car sales that is being propelled by rising incomes in third-tier cities and could continue for a few years, JP Morgan said on Wednesday.
A 21% surge in car sales this year has caught Chinese car makers, which had curbed production on expectations the country's sharp economic slowdown late last year would depress demand for big-ticket items, off guard.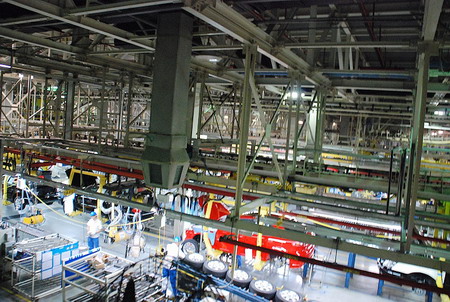 An assembly line is seen here in a factory of Shanghai General Motors Co. Ltd. in this November 2008 file photo. GM said Wednesday that sales in China jumped 38 percent in the first half of 2009. [CFP]

Frank Gong, JP Morgan managing director and China economist, attributes the boom to a surge in the number of people in third-tier cities like Xi'an and Chengdu who now earn more than $5,000-$6,000, the minimum needed to buy and maintain a car.
"The strongest growth in car sales now is in third-tier cities and low-end cars," Gong told a press briefing in Hong Kong. "We believe this is the start of a third auto boom in China."
Car sales have been supported by Beijing's economic stimulus measures, which included halving purchase tax on small vehicles to 5 percent from January and incentives for rural residents to replace old vehicles.
Car ownership is just 2.9 percent of the population - one of the lowest rates in the world - says Credit Suisse, which expects ownership to surge fivefold in the next decade to reach 148 cars per 1,000 residents by 2020.
Related readings:


 General Motors: China sales up 38% in first half of 2009


 China's car companies 'must learn' GM lesson


 Ford China sales up 14% in first half


 Partners on road to producing China Fiat


 China car sales jump 'beyond imagination'
The rebound in car sales, which has accelerated in the past few months with sales surging 47 percent in May from a year earlier, is prompting car makers in China to ramp up production again as they also put in place long-term expansion plans.
State-owned carmaker Beijing Automotive (BAIC) is vying with Canadian rival Magna to bid for General Motors' Opel unit, aiming to use the Opel brand and technology to tap China's growth potential, documents show.
Italy's Fiat meanwhile announced plans this week to start car and vehicle production in China with local partner Guangzhou Automobile Industry Group.
Credit Suisse estimates that 40 percent of urban households in China can afford a medium-priced car if auto financing is available, and 90 percent of rural households can afford the cheapest cars on the market.
It forecasts 20 percent growth in car sales throughout 2009 and 15 percent growth next year. As strong car sales are key to buoying the domestic economy, the investment bank expects the government would introduce more stimulus measures to boost demand if sales cool.