In the weeks before an alleged drunk driver killed Zheng Lin, the pregnant 27-year-old could hear and feel her baby's beating heart and thought it "the most wonderful sound in the world".
In a final entry on her blog, Zheng wrote: "It is the 21st week now. I took a Type-B ultrasound the day before yesterday. My husband and I were very excited to know what the little guy looks like now. But the scan only shows the little guy sticking out its bottom. Ho ho, the little guy doesn't want us see it Anyway, my baby is in good condition. I can hear the beating of its heart. That's the most wonderful sound in the world. It's very amazing."
Zheng and her 28-year-old husband Kang Weidong were among five people killed on June 30 when an alleged drunk driver plowed into nine pedestrians and five cars on a busy street in Nanjing, Jiangsu province.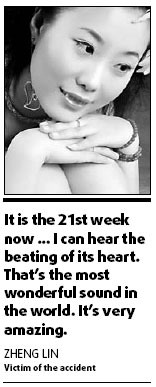 Officials have said the investigation into the June 30 accident will take at least a month because of the number of victims and cars involved.
The local government will provide compensation to the victims' families.
"Related departments are consulting with each other about the method of compensation and the amount. The details will be released soon," an official said. But lawyers said families could expect to see at least 2 million yuan, in line with compensation standards of traffic accidents.
Zheng's final entry dated May 28 gives insight into the joy of the expectant mother, who was concerned with ensuring that her baby was healthy.
"My baby will enter the next stage of growth, which needs a large amount of calcium, so I need to be careful to get enough calcium to keep my baby healthy. My husband has already bought a lot of calcium tablets for me, which were brought by his friend from Hong Kong. Each day my husband reminds me not to forget to eat the calcium tablet. Certainly, I will not forget it. All is for my baby."
A statement released by an unnamed friend of the couple said: "I can not control my emotion. She wrote many words on her blog looking forward to the coming happiness. What a sweet young couple! But the accident ruined her and her family completely. I don't know how many families dangerous driving will destroy."
The driver, Zhang Mingbao, 43, a manager of a local real estate company, has been detained by police. He has not been charged.
Local media reports said Zhang has committed nearly 80 driving offenses, including 39 for speeding, in less than three years.
In footage broadcast on a local television station, Zhang said he had consumed some wine before driving home.
"I feel as if I am a butcher. I'm so sorry for the victims and their families. I am also afraid now," he said.
Zhang said he would try his best to compensate the victims' families, even selling his cars and house.
Tests after the accident showed Zhang's blood alcohol content was 381 milligrams per 100 milliliters of blood. A person is considered drunk at 80 milligrams per 100 milliliters, meaning Zhang's blood alcohol level was nearly five times the legal limit.
According Chinese law, people charged with a "traffic offense resulting in death" may face up to seven years punishment in prison.
"The driver should be charged with an offense against public safety," said Jia Zheng, a Jiangsu Province-based lawyer, "The driver knew his drunken driving may put pedestrians at risk. That is intentional behavior, not inattentive driving," he said.
If charged with an offense against public safety through dangerous means, the driver could face the death penalty. The minimum penalty for this crime is 10 years in prison.
Some lawyers said when the driver hit the first victim it was a "traffic offense resulting in death" but the following fatal hit and run should be considered a crime against public safety.