More than 100 members of the Han and Uygur ethnic groups were injured during that incident, the media reported.
Nur said the brawl was used by overseas opposition forces to instigate Sunday's unrest and undermine the ethnic unity and social stability in the autonomous region, with an aim to split the country.
"We should bear in mind that stability is in the greatest interest of all people in China, including the people in the Xinjiang Uygur autonomous region," he said.
"Sunday night's attack was brutal and violent," Li Zhi, Party secretary of Urumqi, said Monday.
Kadeer told her contacts in Urumqi on July 4 that "something big" would happen there the next day and asked them to collect relevant information, Li said.
About 10 minutes of the footage of Sunday night's riots were shown at the press conference Monday.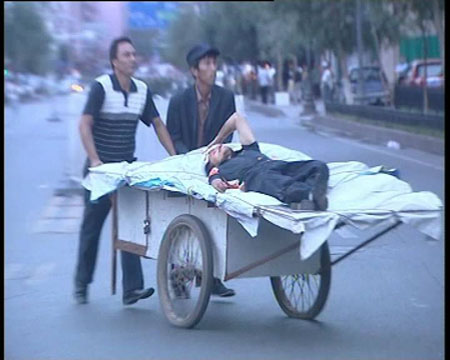 Photo released by police shows two citizens carrying a wounded person in Urumqi, capital of northwest China's Xinjiang Uygur Autonomous Region on July 5, 2009. [chinadaily.com.cn]
Rioters vandalized and burned 203 local stores and 14 residential houses, while 260 vehicles, including two police vehicles and 190 buses, were reportedly torched.
Chen Li, director of the information office in Kashgar, denied an earlier AP report about a riot in Kashgar Monday.
People were not able to access the Internet in Urumqi since early Monday morning.
Shopping centers and banks remained closed in the affected districts Monday and the area was still under strict traffic control.
Xinhua contributed to the story