Residents in southern China are picking up the pieces after days of rainstorms that killed about 20 people and affected up to 10 million during the weekend.
At least 300,000 people had to leave their homes after the heavy rain that lasted for three days and toppled houses, flooded roads and damaged crops from the Guangxi Zhuang autonomous region to the nearby provinces of Fujian, Guangdong and Jiangxi, Xinhua News Agency reported.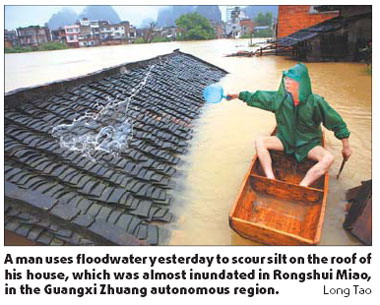 Water levels in some rivers in Guangxi registered the highest numbers since 1998.
In Liuzhou, the region's second largest city and an important transportation hub, water resources authorities called the flooding "the third biggest in history".
Liuzhou's Rongshui county was inundated by the rains, and most residents had to use bamboo rafts and small boats to flee the disaster, provincial media reported.
Xinhua confirmed the number of damaged houses in the county at 4,950.
"These rains always come and go here; there's only so much you can really do," Liu Junjie, a spokesman for Liuzhou's flood control and drought relief headquarters, told China Daily.
"The rainstorm pretty much stopped on Sunday, so things are getting back to normal.
"The rain destroyed a 13-m section of a dyke near the base of a reservoir dam in Guangxi's Luocheng county on Saturday, leading to Premier Wen Jiabao's order that flood control work be stepped up.
Related readings:


 Chinese floods kill 15, displace 550000


 Heavy rain, floods across China kill 95


 Hubei landslides, floods kill 4


 Flood kills 8 in SW China, 8 missing


 China torn by heatwave, rainstorm


 Rainstorms hit Guangxi
"You must ensure the safety of the people and do everything to ensure the safety of the dam," Wen was quoted as saying by the Guangxi government on its website.
More than 150,000 local residents were evacuated.
The Ministry of Civil Affairs and local governments have dispatched relief materials to the affected regions, while armed police personnel raced to evacuate trapped residents, Xinhua reported.
The rainstorms have caused a direct economic loss of 242 million yuan ($35.4 million), it said.
Elsewhere, about 4 million people were affected in Jiangxi province, causing 1 billion yuan ($146 million) in damages, according to the state flood control and drought relief headquarters.