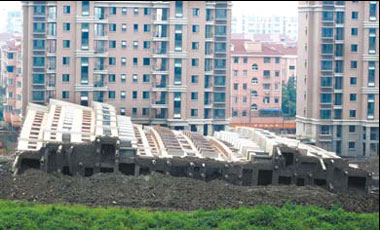 The 13-story apartment building, which was under construction, toppled over almost intact, killing one worker. [China Daily/Gao Erqiang]
SHANGHAI: Homebuyers who invested in a 13-story apartment building that collapsed last week will learn what compensation they can expect in the next few days.
Five lawyers for Shanghai Meidu Real Estate Development, the firm building the Lotus Riverside complex in the city's Minhang district, met owners at a primary school yesterday.
A lawyer surnamed Zhu said the investors should know by Saturday how much money they will receive.
"It will be subject to further discussion if the homebuyers are not happy," he added.
The announcement followed protests by owners of units in the remaining 10 buildings, who have raised fears their homes may also be unsafe and have demanded compensation.
Staff from Shanghai Meidu Real Estate apologized in person to around 1,000 investors on Saturday and vowed to begin compensation talks with owners of apartments in the collapsed building yesterday.
Shortly after, about 200 buyers marched through the streets in protest before some staged a sit-in at a local government building.
The group met briefly with an official but the talks were "disappointing" according to a protester.
Lawyers were to meet investors in the blocks that are still standing at the same school from 9 am today.
One person was killed when the apartment block topped on June 27 at about 5:40 am.
Related readings:


 Building collapse: Construction errors the main cause


 Shanghai blames unbalanced groundwork for building collapse, promises severe penalties


 Homeowners await collapsed building compensator


 Nine under probe for building collapse
Almost 500 of 620 residential units in 11 buildings have been sold at an average price of 14,300 yuan ($2,000) per sq m.
An owner surnamed Chen said her family had sold their old home and spent more than 1.8 million yuan on a unit on the third floor of the collapsed building.
"I want our money back and an equal amount in compensation, or a price gap when we buy another unit," she said.
Liu Yin, who bought a unit next to the collapsed building last October for about 1 million yuan, also said she wants a full refund and an equal amount in compensation, adding: "If not, I want the building destroyed and a new and quality one rebuilt."
However, Xu Wei, a lawyer sent by the Shanghai Bar Association to counsel the homebuyers, said it is unlikely the developer will offer double the amount of money investors paid as compensation.
"According to Chinese law, that will only happen when the seller of a product is proved to have deceived the buyer," he said. "It is feasible for the homebuyers to demand their money back and compensation of the price gap.
"That should be applied to the homebuyers of the 10 remaining buildings as well."
Lawyer Zhu said a safety check was planned for the standing buildings but, as yet, no timeline for the survey had been released.
Sheng Zhenhua, a local government official, also said the authority was discussing with banks possible solutions for the homebuyers' loan repayments.