BEIJING: China's massive economic stimulus plan has launched some projects that are wasteful, possibly making it hard for investors involved to repay bank loans, China's central bank chief said on Saturday.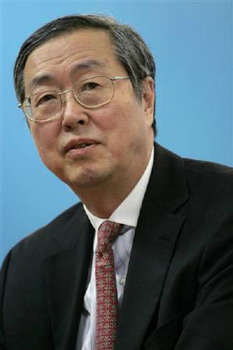 China's Central Bank Governor Zhou Xiaochuan speaks during the signing of a memorandum in Hong Kong June 29, 2009. [Agencies]

"Some projects may be too wasteful, and some projects in local areas may endanger (investors') ability to pay back loans," Zhou Xiaochuan, the People's Bank of China governor, told a forum at the Chinese Academy of Social Sciences, without elaborating.
Zhou's comments underscored government worry about risks from the torrent of spending helping to shore up economic growth.
He said China should formally allow local governments to issue bonds to replace the current irregular practices.
"As the front gate is still closed, many local governments had to launch fund-raising platforms, which makes it harder to control, and there may be big problems in future," he warned.
Beijing announced a 4 trillion yuan ($586 billion) stimulus package at the end of 2008 to help the economy to weather the global slowdown, and banks have rushed to lend money to government-backed projects across the country.
Zhou said many local governments were jostling for the money via their investment arms or other fund-raising vehicles and a significant amount of China's newly offered loans has been used to fund municipal projects.
Last week, the People's Daily warned that banks see loans to government projects as sure bets, and have sometimes become lax in assessing risks and likely returns.
Related readings:


 Central banker: China's economy on the mend


 Global cooperation urged to cope with crisis


 China's economic performance better than expected


 Private money to boost public sector


 Level-playing field for all in stimulus projects
Local Chinese governments are not allowed to issue bonds according to law. But a part of China's stimulus plan and as an ad hoc practice, Beijing had issued 200 billion yuan bonds on behalf of provincial-level governments.
Many governments, however, have also been borrowing through controlled vehicles or by giving hidden guarantees for projects.
"You can see a lot of government financing activities, and you can see lots of municipal debts, it is clear that the demand (to issue municipal bonds) is there," Zhou said.
"It is better to open the front door than to drive people to walk through backdoor or to jump through the window." he added.