NANNING: More than 50,000 people have been forced to leave their homes after heavy rains for three straight days in some areas of south China's Guangxi Zhuang Autonomous Region.
Rongshui County Government confirmed Saturday that half of the 20 townships in the county reported rainfall of 100 to 200 mm from Wednesday to Friday. The worst hit was Dalang Township, with 402 mm.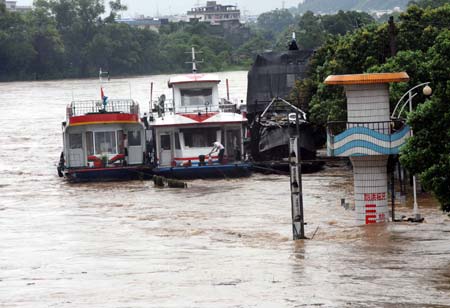 A water level marker is seen on the Lijiang River in Guilin, a city of southwest China's Guangxi Zhuang Autonomous Region, July 3, 2009. [Xinhua]
The downpour forced 47,000 people in the county from their homes.
The rains also toppled 287 rural houses, and inundated 7,333 hectares of crops and destroyed roads. Traffic to 16 townships in the county was disrupted.
Half of the county seat suffered flooding and power cuts after the Rongjiang River overflowed its banks, said a county government official.
The county government estimated the rains had caused 210 million yuan ($30.88 million) in damages.
Related readings:


Three Gorges Dam open holes for sluicing mounting flood


Flood kills 8 in SW China, 8 missing


E.China ready for possible flood


Heavy rains trigger flood alert
In Luocheng county, the Kama Reservoir flooded, and the water flow from the spillways destroyed a 13.5-meter section of a dyke near the base of the reservoir dam.
Luocheng County Government Friday organized the evacuation of 7,509 people living downstream from the reservoir for fear that the dam might collapse.
Sixteen temporary shelters were provided for 6,231 of the evacuees, and the other 1,278 went to live with relatives.
Local governments in Guangxi were distributing relief materials to those displaced, while organizing personnel to reinforce the reservoir dam.