Although traditional attitudes towards homosexuality in China's major cities are rapidly changing fueled by the rise of a new generation, in rural China it still remains a taboo topic.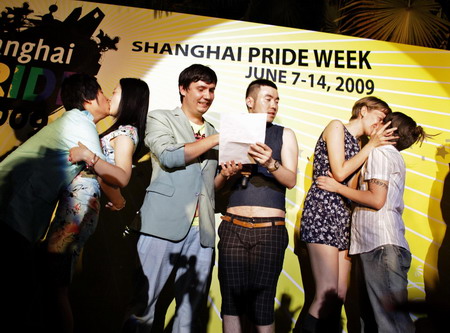 Two gay couples kiss, as part of an unofficial marriage ceremony, during celebrations for Chinese mainland's first Gay Pride week at a bar in Shanghai June 13, 2009. [Agencies] 
The global spotlight on China's culture, people and attitudes first began to shine during the 2008 Beijing Olympic Games, which saw the city undergo an immense transformation – modernization on a scale never before experienced.
Full coverage:


  Same sex commitment
Related readings:


 Chinese state media praises gay parade


 Gay sex no more a crime in Indian capital


 Gay festival teaches tolerance


 Gay Pride week celebrated in Shanghai


 First gay pride festival in Shanghai
The spotlight remains on China after the games and changes are continuing to occur in many areas, including China's attitude toward homosexuality. Major cities seem to be becoming more tolerant of homosexuals and their lifestyle choices. Shanghai, for example, recently held its first Gay Pride parade.
Beijing, the country's capital, has been home to a number of gay bars and clubs over recent years. But one stands out from the rest. Destination is arguably the most popular gay club in the city. The night club, near the west gate of the Worker's Stadium, springs to life with locals and foreigners every weekend.
The unassuming brown building conceals hordes of young men and women, drinking, dancing and partying under dim lights. Based on their appearance, the patrons of Destination do not meet the commonly accepted stereotype.
Ear piercings and flamboyant clothing – the unfairly clichéd homosexual uniform – are not as prevalent as one would imagine. Instead, the patrons of this club are identical to those in other Beijing nightspots. The only difference is elsewhere their true identity would often be concealed.
At Destination, the homosexual community feels welcome. At Destination, they can be themselves. At Destination, they are at home.
Australian author James West said in a recent interview with chinadaily.com.cn, young people in China are becoming more curious about gay subcultures.
"There is a desire to be international, a desire to be fashionable, and understanding homosexuality is part of that movement."
West said while young people in any country can find it difficult to openly acknowledge their homosexuality, there is even more pressure on Chinese people to be straight because of strong family values.
"The family unit in China is of huge importance," he said.