CHENGDU: A blaze that engulfed a bus in southwest China's Sichuan Province, which killed 27 people and injured 74 in early June, is believed to be the work of an arsonist, local police said Thursday.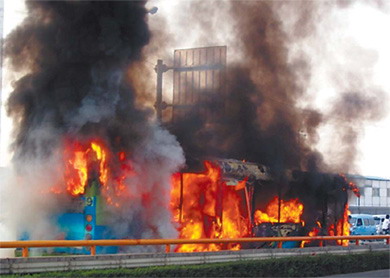 A fire rages through a bus in Chengdu, capital of Sichuan province, on Friday. [China Daily] 
The man, identified as 62-year-old unemployed Zhang Yunliang, a native from Suzhou City of eastern Jiangsu Province who temporarily lived in Chengdu, was burnt to death at the rear of the bus after setting the fire, police said.
Related readings:


Bus fire probe: Someone brought gasoline on board


Death toll in bus fire rises to 27


Freak fire engulfs bus, kills 25
At around 7:40 a.m. on June 5, Zhang had allegedly brought a plastic bucket full of gasoline and boarded the bus from Tianhui Township, the starting bus stop, police investigations showed.
Police also quoted testimonies of blaze survivors as saying that the man had poured and lit the gasoline when the bus was heading in a north-to-south direction towards Chuanshan Viaduct in downtown Chengdu, where the blaze took place.
Crime scene investigations found traces of gasoline were poured in a rear-to-front direction. Zhang was allegedly seated in the rear.
The area where Zhang's corpse was located was the area burnt the worst and police found part of a lighter near Zhang's body.
Police said Zhang did not intend to escape based on the analysis of the position of his body.
Zhang had been living off his daughter's financial support since he went to Chengdu in 2006. In 2009, his daughter reduced her financial assistance as he had allegedly spent money on prostitution and gambling, according to the police.
"Zhang had threatened suicide to his family many times and had displayed pessimistic and world-weary emotions before the bus blaze," police said.
One day ahead of the fatal bus blaze, he had told his daughter that "he would be gone by the next day" and "he would die in a manner that is different from others," according to the police.
On June 9, his family received a note sent through a local post office by Zhang before the bus blaze, police said. The contents of the note are unknown.