With the goal of building Shanghai into a world-class financial hub, the central government is showing renewed interest in inviting foreign-funded firms to be listed in the country.
Deputy commerce minister Chen Jian said Thursday that his ministry will continue to work with other Cabinet departments on policies regarding domestic IPOs of foreign firms to "actively guide high-quality foreign firms to go public in China".
The government said as early as November 2001 that it might allow foreign companies to list on the bourse in Shanghai, and analysts said there was a possible acceleration of the process recently.
"The objective was re-emphasized in recent plans to transform Shanghai into an international financial center by 2020," said Jing Ulrich, JP Morgan's chairwoman of China equities.
Related readings:


 China to mull domestic listing of foreign firms


 Sichuan Expressway IPO coming


 China OKs first major IPO in 10 months - source


 IPO norms favor small investors


 IPO lure draws elusive investors back to bourses
Chen's comments Thursday on foreign companies' domestic IPOs were also linked to government efforts to stop the decline of foreign direct investment (FDI).
Direct investment slid 17.8 percent, to $6.38 billion, in May from a year earlier.
And Chen said Thursday that FDI in China faces "unprecedented difficulties" after falling for eight months, the longest stretch of declines this decade.
"In order to boost investor confidence and expand the inflow of foreign investment, the Ministry of Commerce is working with other departments to develop measures to stabilize FDI inflows," Chen said. He pledged that the government will "soon" announce policies to stabilize investment.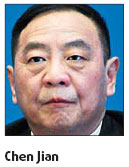 For foreign companies in China, Beijing's invitation to the capital market would offer more fundraising opportunities, said Jing of JP Morgan.
Some domestically-incorporated foreign banks have already announced plans to issue yuan-denominated bonds.
"We expect the first domestic listings by foreign companies to begin in the medium-term," Jing said.
Some analysts said HSBC Holdings PLC, Europe's largest bank, could be in the running to be the first to list. HSBC was the first overseas company to respond to the Shanghai bourse's plan to start the "international board".
In May this year, HSBC CEO Michael Geoghegan said the bank was looking forward to listing its shares in Shanghai when local rules permit.
"The foreign companies would benefit from higher valuations in China's stock exchanges and gain access to renminbi financing. The A-share market also provides a good platform for foreign companies to gain further brand awareness and recognition in China," said John Tang, a Hong Kong-based UBS strategist.
But experts said it will be a daunting task of coordination between ministries before the road to Chinese IPOs is cleared.
"One main technical barrier is the control of capital accounts, and that is up to the approval by the securities regulator and the forex administration. Also, the financial reporting requirements of the A-share market have yet to adapt to international standards," said Zhao Xijun, a professor of finance at Renmin University of China.
Zhao said a company would compare the service and costs when it chooses where to get listed.
Those with big business in China need the renminbi, and it's an ideal way to raise Chinese money by listing in the local market.
Market watchers believe now is the time to kick off foreign companies' A-shares IPOs, because the country's benchmark Shanghai Composite Index has rallied over 60 percent this year and domestic investors are keen to invest in more high-quality companies.