SANYA: China will intensify patrols in the South China Sea to protect its fishermen amid a rising tide of disputes with neighboring countries, an official said Tuesday.
Wu Zhuang, director of the Administration of Fishery and Fishing Harbor Supervision of the South China Sea, said it has become increasingly important for the nation's fishing authorities to watch over its fishermen.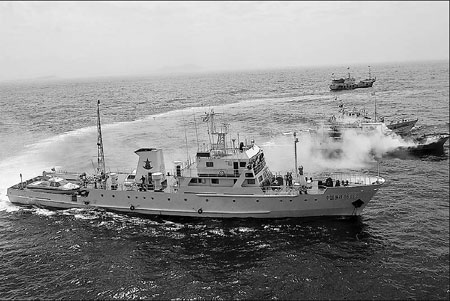 Chinese fishery patrol vessels in Sanya, Hainan province, prepare to join an exercise Tuesday in the South China Sea aimed at protecting China's rights in the area. Huang Ju

Wu made the remarks at the start of a drill of seven vessels, including China's largest fishery patrol ship, China Yuzheng 311, in Sanya, Hainan province.
Other vessels in Guangdong and Guangxi also conducted drills to mark the 5th anniversary of the Demarcation Agreement on Beibu Bay, signed by China and Vietnam.
The exercise is a sign of China's determination to protect its sea territory, secure its natural resources and safeguard China's fishing fleet, Wu said.
Chinese fishermen face many challenges on the South China Sea - they run the risk of being illegally arrested by other governments, being robbed by pirates and must compete with foreign fishermen illegally encroaching upon China's traditional fishing area, he said.
It sometimes takes years for countries to release Chinese fishermen arrested in disputed waters - and boats and fishing equipment are often not returned.
The latest such incident happened on June 20 when Indonesia seized 75 Chinese fishermen and eight vessels that originated in Beihai, the Guangxi Zhuang autonomous region.
Related readings:


 China demands fishermen's release from Indonesia


 Indonesia told to release 75 Chinese fishermen


 Encounters at sea set for 'game rules'


 China, US to hold sea consultations in July


 Disputes at sea float to surface
They are still being held.
Last week, 25 fishermen from Guangdong who had been held since Dec 21, 2006, were released by the Philippines.
Wu said Chinese fishermen captured by foreign countries can be forced through a lengthy jurisdictional procedure and face jail terms.
However, he pointed out that China usually does not detain foreign fishermen who invade its waters. It elects instead to educate, warn or drive out those who illegally fish in its waters, he said.
Wu called for legislation to help deal with invading fishermen and urged the building of more patrol capability.
China Yuzheng 310, a 2,500-ton fishery vessel under construction, will be put to sea next April, he added.
"China should also build a few fishery administration bases on the reefs and islands in the South China Sea, so that the response to incidents can be quicker," Wu said.