The intention to protect children from porn and violence may have been sincere, but China's attempt to roll out a hi-tech Internet filtering policy has certainly proved controversial.
An edict from the Ministry of Industry and Information Technology (MIIT) that all new personal computers sold or made in China from July 1 must feature its Green Dam-Youth Escort program sparked heated debate in the media and on Web portals across the nation.
And experts have predicted the directive could be revised or scrapped, with Shen Kui, deputy dean of the school of law at Peking University, saying that he believed the government had found itself in a "very uncomfortable position".
Some PC manufacturers and other firms in the IT industry are already refusing to pre-install the software, for which the government has paid 41.7 million yuan ($6 million) for a one-year lease of the program.
Some citizens cautiously welcomed the policy to help create a porn-free environment, but others chose to publicly vent their frustrations after discovering that content deemed politically sensitive or homosexual would also be targeted by Green Dam, or luba, which shares the same pronunciation with "filtering bully".
The anti-Green Dam website, lssw365.org, launched on June 11, has already received 10,400 comments from netizens, most of whom seem to be using their real names.
"The Internet is a platform with freedom of expression and a vital pool of information for the public," wrote a netizen under the tag of "Professional 50 Cents" during an online chat with media experts on the People's Daily website on June 10. "But with Green Dam in sight, a lot of people are more worried about what kind of freedom and access they will have when the content is filtered."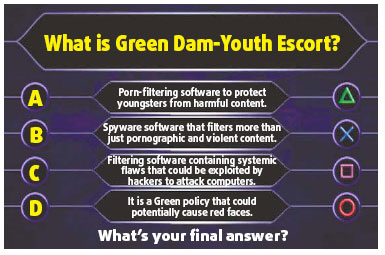 Another netizen tagged as "Jzyg" and an advocate for homosexuals on Global Voices, a non-profit organization for worldwide bloggers, blasted the software as a "scumbag (that) equalizes homosexuality with obscenity and violence".
He said once Green Dam is installed, it will filter out all websites with homosexual content, including Aibai, Idanian and Aifufu, popular websites for the lesbian, gay, bisexual and transgender (LGBT) community in China.
Websites that contain key words such as "homosexual", "gay" or "lesbian" will automatically be flagged up by the software, as will sites with a lot of images containing "skin color" or same-sex intimacy.
Critics have also been creative and posted online around a dozen variations of the "Green Dam Girl", usually a busty Japanese Manga-style character in an army cap and mini dress who totes a bucket of soy sauce - considered a disinfectant - for cleaning up dirty websites.
Lawyers in Beijing and Shanghai have also drawn up domestic petitions and legal challenges against the filtering plan.
In the capital, Li Fangping, a lawyer with Beijing Ruifeng Law Firm, submitted a request to the MIIT last week demanding a public hearing on the "legitimacy and rationality" of having PC manufacturers include the "pornography filtering package". He has yet to receive a response.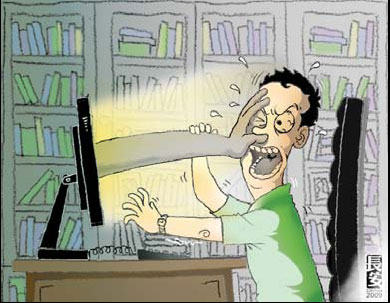 However, Qiu Baochang, a senior attorney with China Consumers' Association, defended the policy, saying a public hearing was not necessary since the 41.7 million yuan spent on the software was from the central government's budget, which had already been approved by the top legislative body, the National People's Congress, during its annual session in March.
China is not the only country to filter the Web, although Western nations have tended to use a very different approach. In most, installing filtering software is considered a personal choice.
Related readings:


 Let people decide on Green Dam


 Green Dam developers face copyright suit


 Anti-porn filter software stirs up disputes in China


 Scholars skeptical of anti-porn filter software


 To filter or not to filter that is the question
Some laptops in Britain are pre-fitted with Mcafee's SmartFilter to block access to pornographic, gambling or other non-business-related websites, but users are offered the choice to opt out and continue their surfing if the filtering software finds any unsuitable content.
Users only find browsers are terminated when they try to access websites that contain themes such as child abuse or sexual violence.
"There is no problem with the government protecting the Chinese youth (by keeping them away from porn), it is the same as what is being done elsewhere in the world," said Professor Chen Lidan, a senior researcher on journalism for Renmin University of China.
"But the problem is adults in China, who comprise about two-thirds of the nation's online community, will have to face the fact all computers will be pre-fitted with filters according to the government's stipulation.
"If they are told they must share the same level of access as children, isn't it true that their access to information has been stripped?"
Filtering software is a $210-million business in Japan, where people can have tailor-made filtering programs developed by Internet companies and pay a monthly fee for the use.
But the rules are tougher for Japan's youth, with a regulation introduced on April 1 that demands all cell phone firms put filters on any phones sold to youths under 18 to block pornography and violence.
Meanwhile in the United States, most schools and public libraries use loaded filtering software, as stipulated in the Communications Decency Act, the Child Online Protection Act and the Child Internet Protection Act (CIPA).
The US Congress has also made several laws in recent years, albeit under the watchful eye of the Supreme Court which makes sure they do not infringe on the freedom of speech.
The American Library Association challenged the CIPA in 2001 arguing "no filtering software successfully differentiates constitutionally protected speech from illegal speech on the Internet".
But the US Supreme Court upheld the CIPA on condition "a librarian will unblock filtered material or disable the Internet software filter without significant delay on an adult user's request".
Now, while CIPA requires schools and libraries to protect against such computers being used to access obscene images, child pornography or images "harmful to minors" while any such machines are being used by children, the law also states the library can "disable the technology protection measure concerned, during use by an adult, to enable access for bona fide research or other lawful purpose."
Professor Xie Xinzhou, deputy dean of the school of journalism and communication at Peking University, said the Chinese government should not interfere if netizens want to view certain online content in private, or when and how they want to view.
"There is a boundary for the government with administrative powers and how they make fair laws for online content," he said. "Remember, netizens are also citizens protected by the constitution."
Shen Kui, of Peking University, added: "Why does it have to be this authorized software rather than another well-developed option? Why does it have to be applied to all Chinese computer users rather than recommending it to parents?"