China and its three sister BRIC nations - Brazil, Russia and India - will "participate more fully" in the decision-making of world affairs, said the Brazilian ambassador to China, commenting on the first-ever summit of the four countries held Tuesday in Russia's Yekaterinburg.
"A fundamental thing is that we are witnessing some changes in the world system," Clodonaldo Hugueney said on Thursday.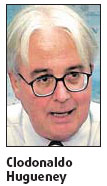 The four countries are the most significant emerging powers in the world, according to many international experts. The BRIC nations now are "partners in all important decision-making in all issues", Hugueney said.
The four countries have become a group and Tuesday's summit was "an initial step to making the group more institutionalized", he said.
"The first summit indicates that BRIC nations are elevating the level of their political dialogue," Hugueney said, noting that the summits will take place on a regular basis in the future.
But he also admitted that the countries have a long way to go to become a "formal institution", as many differences still exist between them.
"I think the way to overcome differences is to focus on the areas in which we share a common interest," Hugueney added.
Special coverage:


SCO&BRIC Summits
Related readings:


 Hu urges more co-op among SCO members


 SCO leaders sign Yekaterinburg Declaration


 SCO summit begins in Yekaterinburg


 China offers $10 billion loan to SCO


 SCO leaders kick off summit in Yekaterinburg
Chinese experts said BRIC nations are not ready to form a real group of nations.
"The BRIC nations are just registering their presence as emerging powers through the summit," said Sun Hongbo, a researcher of the Institute of Latin American Studies at the Chinese Academy of Social Sciences.
"It is a diplomatic showcase," Sun added, noting the Shanghai Cooperation Organization, which also held an annual summit Tuesday in Yekaterinburg, is a more important association for China.
Among the issues up for discussion for the BRIC nations is the reformation of the international currency system, Sun said.
Also, the BRIC nations are concerned about protecting their overseas assets, he added.
All four countries are in favor of "reshaping the financial order and better regulation" amid the global financial crisis, Hugueney said.
BRIC nations also have other goals in common.
All four nations share the same concern of multilateralism, and they all want to see the developing world's bigger role in international decision-making, Hugueney said.
"BRIC should include more developing countries, such as South Africa, Mexico and Saudi Arabia," Liu Tao, a macroeconomic analyst, was quoted as saying by China Business News, a Shanghai-based daily newspaper.
"Only this way can emerging powers conduct real fair talks with developed countries," Liu added.