XIAMEN, Fujian Province -- Two giant pipe organs have made the journey of thousands of miles from an English church and an American city to a small Chinese island, where locals can now enjoy "the sound of heaven".
Organist Fang Site looked extremely small when she sat in front of the keyboards of the 100-year-old Norman & Beard pipe organ.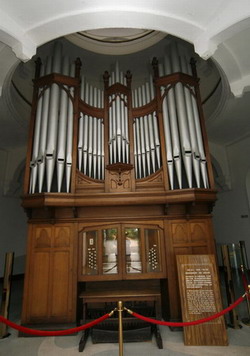 Undated file photo shows the century old Norman & Beard organ. [Xinhua]
As the 160-cm-tall young lady smoothly played J.S. Bach's Toccata and Fugue in D minor with this two-floor-high instrument, the solemn sound could be heard all round the hall under a ten-meter-high Romanesque dome.
The building, two years older than the Norman & Beard organ and the former villa of a rich Chinese merchant, is now the country's only Organ Museum. It's home, Gulangyu Island, has now earned the name "Piano Island."
"The organ is a perfect match to this building," said Fang, who works at the museum.
In its old home, a church in England, people listened in front of it. Here, in a round hall, visitors can walk around it and even go upstairs where the sound is even better because of the dome.
Since its founding in 2005, the museum's collection has grown to about 80 organs, many on show in the two floors of exhibition rooms.
However, the Norman & Beard is the only giant pipe organ assembled and available for performance.
"They are too huge. The Norman & Beard has 1,350 pipes, three layers of keyboards and 21 organ stops. It weighs three tonnes and the longest pipe is five meters in length. We have to put it in the center hall, the largest exhibition space in our museum," said Huang Jianxi, the museum curator.
The museum has an even bigger organ, a Casavant Freres pipe organ with 7,451 pipes and weighing 35 tonnes. It will be 13 meters high and 12.5 meters wide if assembled, even larger than the pipe organ installed in the egg-shaped National Center for the Performing Arts in Beijing, which claims to be the largest in Asia.
Most of its components were still unpacked after being shipped from Boston in the United States, in October 2007. Only the beautifully carved wood case of the pipes are on display now.
"In the past two years, we have been working hard to find a new home for this giant," Huang said.
Now the museum has been given 2,600 square meters of land beside the old museum building.
"A US firm has finished the new building's design. We expect to start construction this year," Huang said.