China's magical mountains lure the world's best climbers and offer an unrivaled taste of heaven but they can also deliver a deadly blow. Three American climbers went missing this month during an expedition on Gongga East, or Mount Edgar in Sichuan province. Search teams discovered the bodies of Jonny Copp, 35, and Wade Johnson, 24, on June 6; Micah Dash, 32, remains missing.
An avalanche likely struck.
Copp and Dash were two of the best American climbers who "only wanted big, new, steep, difficult faces to climb. That was the challenge they loved," said John Harlin, an American mountaineer with climbing experience in China and the editor of the American Alpine Journal.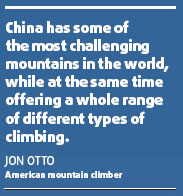 Johnson, a talented climber and photographer for Sender Films, was documenting the Gongga East climb for a six-part television series called First Ascent done in association with the National Geographic International Television channel.
Despite the fatal risks, China's mountains continue to draw a growing number of foreign mountaineers. The climbers are lured by towering 8,000-meter Himalayan giants but also, increasingly, by the hundreds of unclimbed, and even undocumented, 6,000-meter peaks, in the eastern Tibet, western Sichuan and northwest Yunnan area.
Tamotsu Nakamura, a Japanese explorer and one of the foremost experts on the region, calls it the last frontier of mountaineering. Other mountain ranges of comparable stature, such as the Himalaya or the European Alps, were charted decades ago; many of China's most spectacular mountains are still unknown to anybody aside from local Tibetan villagers.
"You will come across unclimbed, stunning peaks, untrodden glaciers, awful gorges, beautiful forest, pastures, fauna and flora," said Nakamura.
"China has some of the most challenging mountains in the world, while at the same time offering a whole range of different types of climbing, from big expedition mountaineering to steep alpine on shorter peaks," said Jon Otto, an American mountain climber who lived in China for over 10 years and still runs the Arte Alpine Instruction Center (AAIC), one of China's premier climbing schools, in Chengdu, Sichuan.
The 8,000-meter mountains (Qomolangma, Cho Oyu and Xixabangma) in the Himalaya have been popular for decades but climbing is expanding throughout the rest of China, Otto said.
"Now the interest is much more in exploring virgin peaks or new routes that are lower (in elevation) but offer good technical challenges," said Harlin.
"And a few people like to explore ranges where no one has climbed before - both Tibet and the rest of China still offer possibilities this way and this is rare in the world," said Harlin.
This kind of climbing in China has become popular over the last 10 years, he said.
An American team made the first ascent of the 7,556-meter Minya Konka massif, part of the Daxue Shan range in Sichuan province, in 1932. Not long after, China's western mountain ranges were closed off to all foreign mountaineers except Russians.
Related readings:


 Search for missing American climber ends


 Body of second US climber found in Sichuan


 Rescuers find body of US climber, continue search 2 other teammates


 Climber plumps for portable toilets for Everest


 Body of Japan climber found in China 26 years on
"Wars, civil war, the advent of New China and the 'cultural revolution (1966-76)' kept foreigners out," said mountaineer Ted Vaill, chairman of the American Alpine Club's legal committee.
"As the rest of the world's peaks got climbed and climbing techniques improved, there were thousands of unclimbed peaks in China," said Vaill.
The Chinese Mountaineering Association, founded early in the 1950s, concentrated mostly on the Himalayas, leaving western Sichuan and eastern Tibet a white spot on many maps, said Nakamura.
But China opened up in 1978 and by 1980 foreign mountaineers and trekkers were allowed into eight or nine areas in Tibet and the rest of China. Most climbers headed to the Himalayas but others decided to see what lay in China's uncharted ranges. In the early 1980s Vaill led groups into the Siguniang range in western Sichuan, making the first climb of the technically-demanding Celestial Peak. A few years later Nakamura began visiting eastern Tibet, western Sichuan and northwest Yunnan and has since made almost 30 trips there.
The exploits, and photographs, of climbers and explorers such as Nakamura are inspiring other foreign climbers to follow.
"I believe there may be more mountains in China than in any other country on earth; there are certainly more unclimbed mountains and the opportunity for exploration seems endless," said Joe Puryear, an American mountaineer with a long history of climbing in China.
"The peaks aren't necessarily more or less challenging than other places in the world but the remoteness, ruggedness and raw, untouched beauty is what makes the mountain regions (in China) astounding," Puryear added.
"So much of the world has been documented, mapped and guidebooked to the point that there's little left to be discovered. Eastern Tibet and western Sichuan still have places to be discovered," said American Alpine Institute guide Andy Bourne, who has done six expeditions in the region.
"After going there so many times, I'm realizing there's even more than I had first imagined. There's a lifetime of peaks to be discovered," Bourne added.
Qionglai Mountains (where the Siguniang range is located) and the Minya Konka massif (commonly referred to as Gongga Shan) are emerging as Sichuan's most popular areas for mountaineers.
"These are both great mountain ranges with a plethora of quality rock, snow and ice peaks that hold high interest for climbers. They both also have easy and quick access compared to other areas in China," said Puryear.
But mountaineering in these remote and rarely-tracked areas carries corresponding risk and mountains such as Gongga Shan have developed a treacherous, unpredictable reputation. According to Xinhua news agency, 22 people have died on Gongga and only 24 have reached its summit.
Climbing untrammeled summits does not come cheap and in the past year the price of mountaineering expeditions rose for foreigners.
"In 2008 the Chinese Mountaineering Association implemented a new fee structure for climbing permits, increasing the costs dramatically. They also implemented the requirement of a liaison officer, which most independent climbers (non-commercial groups) view as unnecessary, cumbersome, and expensive," said Puryear.
Higher fees are not the only barrier to getting on remote Chinese mountains. Much of most untracked parts of China, in eastern Tibet, near the Yunnan border (such as the Nyainqentanglha East range and Kangri Karpo range), are still closed to foreigners or are extremely difficult to access because they are close to international borders with India and Myanmar, said Nakamura.
These areas will take at least 20 years or more to become well-mapped, popular mountaineering areas, meaning there is still plenty of exploring and first ascents, said Nakamura.
Why climb mountains? Because they are there