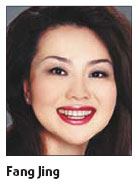 CCTV prime-time anchor Fang Jing on Friday denied rumors about spying, saying she has "never been questioned by any department on any issue whatsoever".
Contacted by China Daily Friday morning, the 38-year-old face of China Central Television's prime-time military program Defense Watch said the speculations by guest speakers and some CCTV staff are "not true".
"No personnel from any department has questioned me on any issue whatsoever," Fang told China Daily on the phone, adding that her absence from the program since March was "not related to any spying investigation".
Sources who work with Fang closely said on Thursday Fang was under suspicion for "spying for Taiwan" and her case is "still under investigation" and "no conclusion has been reached so far".
Fang, who started working for CCTV in 1994, had been member of the all-star line-up at some of the largest live broadcasts in CCTV history, including the three-day live coverage of the return of Hong Kong to the mainland in 1997 and live coverage of the millennium celebrations.