HUIZHOU, Guangdong: One person is still at large following the meat cleaver killing of an official.
Six people have been detained and "we are still pursuing another person involved in the violence," a police officer of Longmen county who would not be named told China Daily Thursday.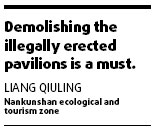 Deng Kaihua and a team from the Nankunshan ecological and tourism zone were trying to demolish an illegally built pavilion on June 2 when he was chopped on the back of the head with a cleaver by Zhou Weilin, a member of the family at the pavilion.
Deng, a deputy director of the zone, died of his injuries two days later, Nanfang Rural News reported Thursday.
His family has received compensation of 400,000 yuan ($59,000) from the local government and the report said the government is planning to apply for an honorary title of "martyr" for Deng.
Many of the pavilions in the zone are owned by local villagers and are built as tourist attractions to make money.
Liang Qiuling, director of the zone's administrative committee, said the illegally built pavilions will be razed one by one despite any pressure.
"Demolishing the illegally erected pavilions is a must," he said.
Liang said Zhou's attack was well-planned and organized, based on the fact the family had cleavers, kitchen knives and other tools ready.
"Our staff had visited the Zhou's family three times to ask them tear down the pavilions themselves," Liang said.
"However, we are in no position to pay compensation to people like the Zhous, because the pavilions are illegally built."
However, some members of the Zhou family said demolishing the pavilion was unfair, as other similar pavilions remained intact.
"Why hadn't they demolished other pavilions before they tore down ours," they were quoted by the newspaper as saying.
In May 2008, a similar incident happened in the neighboring city of Heyuan, when villager Lu Jingqing, angered by a government order to demolish his house, drove a tractor into a group of officials and workers during the demolition.