BEIJING – China's trade plunged in May but analysts said the worst of the slump is past and the world's third-largest economy is improving as investment rises sharply.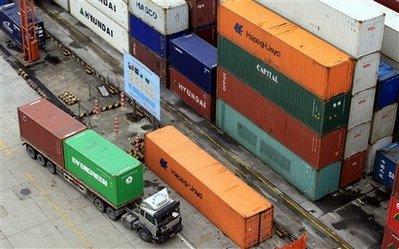 In this photo taken March 3, 2009, piles of containers at Waigaoqiao Container Port are seen in Shanghai, China. China's exports fell by a record margin in May as the global slump battered trade, while imports also fell sharply, data showed Thursday, June 11, 2009. [Agencies] 
May exports fell by a record 26.4 percent from the same month of 2008, while imports were down 25.2 percent, the customs agency reported Thursday.
Related readings:


 China announces further support policies for exports


 China rolls out policy to boost exports


 China's March steel exports total 1.67 million tons


 Tough situation makes full tax rebates for exports urgent


 China hopes FTAs will help boost exports
Despite the year-on-year import decline, demand for foreign raw materials is rising as Beijing's stimulus spending takes hold, analysts said. They said the value of imports fell even as volume rose because of a 30 to 50 percent drop in the price of oil and other commodities from last year's highs, which cut China's import bill.
"Demand is gradually improving," said Credit Suisse economist Dong Tao. "It is unevenly distributed but overall it is improving."
The data indicate both exports and imports rose by as much as 2 percent compared with April, said economist David Cohen of Action Economics in Singapore.
"Things did bottom out in the first quarter and are now on a recovery trajectory," Cohen said. "Maybe it's still sluggish, but it was in freefall for five to six month, then bottomed out and now we are on a gradual upturn."
China's trade collapsed in late 2008 as the global crisis cut demand for exports, wiping out millions of Chinese factory jobs. Analysts say exports will not rebound until the US and European economies recover.
Beijing is trying to shield China from the downturn by boosting domestic consuption with a 4 trillion yuan plan to pump money into the economy through higher spending on public works construction and other initiatives.
China's investment in factories, real estate and other fixed assets soared by 32.9 percent in the first five months of the year from a year earlier, a government news agency reported Thursday.
The Xinhua News Agency's report gave no housing sales figure for May but said growth for the five-month period was 2.4 percentage points faster than for the first four months of the year, indicating investment is picking up.
Other economic indicators also are improving.
Home sales surged 45.3 percent in the first five months of the year from the same period of 2008 to 1.1 trillion yuan ($161 billion), the government said Wednesday. Auto sales are up sharply, driven by cuts in sales taxes and other government incentives.
"The full economic impact of China's stimulus-driven infrastructure expansion will likely become more apparent in the second half of 2009," Jing Ulrich, JP Morgan's chairwoman of China equities, said in a report. "Policymakers must take steps to ensure that consumption remains on a firm growth trajectory."
Chinese leaders have warned that the recovery is still tentative and is vulnerable to global economic conditions.