GUANGZHOU: A well-known milk manufacturer in Guangzhou has come under fire for altering the production date on its milk cartons to make them appear fresher, the local quality watchdog said Wednesday.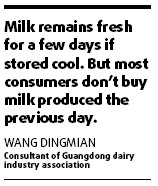 During a surprise raid on the Xiangmanlou Milk Company's Guangzhou office on June 2, officials of the quality and technological supervision bureau found 9,454 cartons of papaya milk and strawberry yoghurt, which were produced the same day but the production date printed on them was that of the next day, June 3.
All the 9,454 boxes of milk, as well as 37,885 other milk cartons, which were not marked with production dates, have been "sealed and confiscated", the bureau said.
"We have sealed up and confiscated the milk products, valued at over 100,000 yuan ($14,700)," it said.
The bureau had said on Tuesday that the confiscated milk products "did not have any quality problems".
The Xiangmanlou Milk Company declined to comment Wednesday.
Experts believe this is not an isolated case and "several other firms in the country adopt similar tricks to fool the consumer".
Wang Dingmian, a consultant of the Guangdong dairy industry association, defended milk manufacturers, saying: they had "no other option".
"The procedure of producing, packing and transporting fresh milk takes a couple of days. If a producer marks the real production date on the boxes, his products won't seem fresh in the market.
"Milk remains fresh for a few days if stored cool. But most consumers don't buy milk produced the previous day," he said. "In order to sell their products, milk producers always mark the production date a day later, well aware that it's illegal."
As of Wednesday, Xiangmanlou's milk products were still available in the market.
Guangzhou's quality and technology supervision bureau has not yet ordered supermarkets to remove the firm's products from shelves.
A number of customers said they would continue buying the firm's products as long as there were no quality issues.
'No more melamine'
Guangzhou's quality control authorities Wednesday refuted recent media reports that a local firm's milk products contained melamine, a toxic chemical responsible for causing the death of at least six infants and sickening 300,000 kids in China last year.
Scient Infant Nurture Co Ltd claimed to use imported formula in its milk powder.
Guo Li, a Beijing consumer, said he bought several cans of Scient milk powder last year for his child, who developed kidney stones after consuming the product, local media reported earlier this week.
After subsequent tests, the China National Food and Safety Supervision and Inspection Center found "132.9 mg/kg of melamine content in the milk powder Guo bought. The government only allows a maximum of 1mg/kg melamine in milk products.
A newspaper report said Guo was demanding 500,000 yuan as compensation from the milk powder manufacturer.
Scient said in a statement on Tuesday that they were "willing to give several cans of milk powder" free of cost to Guo, but "will not agree on compensation".
A statement from the Guangdong quality supervision bureau said, "The problematic milk powder was manufactured before Sep 14, when the melamine scandal broke out.
"All Scient products made after Sept 14 are safe."
The General Administration of Quality Supervision, Inspection and Quarantine seconded the quality supervision bureau, saying Scient's products manufactured after Sep 14 abide by all government standards.