BEIJING - China plans to dramatically increase its use of wind and solar power, aiming to generate up to one fifth of its energy from renewable sources by 2020, a senior official told Britain's Guardian newspaper.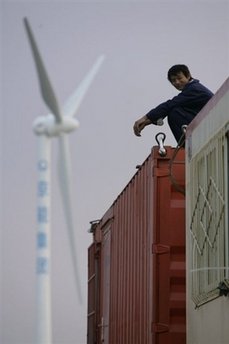 In this undated file photo, a worker is seen at a wind farm on the outskirts of Beijing. [Agencies]
"We are now formulating a plan for development of renewable energy," Zhang Xiaoqiang, vice-chairman of China's National Development and Reform Commission, said in an interview in London published Wednesday.
"We can be sure we will exceed the 15 percent target. We will at least reach 18 percent. Personally I think we could reach the target of having renewables provide 20 percent of total energy consumption."
China's stated goal is for 15 percent of its energy consumption in 2020 to come from renewable sources, which Beijing says include large hydropower projects and nuclear plants.
The Guardian reported Zhang as saying that a significant part of China's economic stimulus package would be invested into low-carbon investment, and that accompanying reforms would see increased demand for renewable energy.
"Due to the impact of the global financial crisis, people are all talking about green and sustainable development," Zhang told the paper.
"Enterprises and government at all levels are showing more enthusiasm for the development of solar for power generation, and the Chinese government is now considering rolling out more stimulus policies for the development of solar power."
US climate envoy Todd Stern met with top Chinese officials in Beijing this week to press for a commitment to cutting greenhouse gas emissions under the next treaty on global warming, to be hammered out in Copenhagen in December.
Related readings:


 New perspectives to sustain energy supply


 New energy seen as new growth engine


 China drafts energy stimulus plan


 Energy from pig slurry helps fight climate change


 Kerry: China-US clean energy talks productive
In a meeting on Monday, Vice Premier Li Keqiang reiterated to Stern that developing countries like China should be held to a different standard, according to a statement posted on the Chinese foreign ministry's website.
Zhang said China was pursuing a "constructive and a positive role" in negotiations for Copenhagen, and as part of the agreement, developing countries would have to pursue a "sustainable development path."
He added that China was open to the idea of limits on the carbon intensity of its economy, or setting restrictions on its emissions per unit of output.