Fighter jets, missiles and officers that "that have the right height and can march in flawless synchronization" will be reviewed at Tiananmen Square as part of the nation's 60th anniversary celebrations.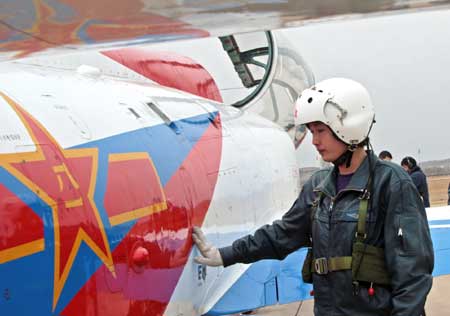 Pilot trainee Tao Jiali examines a jet fighter before her flight test in China, March 29, 2009. [Xinhua] 
With just four months to go, thousands of officers that will march in the Oct 1 military parade have moved to north Beijing's military camp. Other officers have been training at a base in Shahe, Changping district since late April, following months of training at separate bases across the country.
Related readings:


 Qingdao parade to see China's 3 fleets


 Female pilots to make debut in historic parade


 War vets could make debut in parade


 Chinese troops in closed-door training for parade


 Parade promises grand spectacle on a budget
China's first female warplane pilots, who recently graduated from the Third Air Force Aviation Academy in north China's Liaoning province, are training for their public debut.
Heavy military armaments, including aircrafts, missiles and armored vehicles, have not been moved to Beijing yet. However, the Jian-7 warplanes in Sichuan were recently painted blue and white for the occasion.
Jian-11 and Jian-10, the Chinese army's third-generation fighter jets, will be on display, and some people have speculated about whether the advanced long-distance submarine missile will also join the parade.
An officer who will march in the parade told China Daily that spirits were high in his division of 200 men, which has been stationed in Beijing since April.
"There are no special rules for selection, as long as one has the right height and can march in flawless synchronization," said the officer in his early 30s.
There has been a significant decrease in the number of soldiers marching in the parade to cut expenditure, sources told China Daily. At least 400 people, including the special forces of the armed police and an air force academy group, were removed from the parade.
Meanwhile, the selection process is ongoing for residents and college students who will participate in the parade. Among the civilians is a group of 200 females, aged 17-25, and between 163 cm and 175 cm tall, who are local residents in Beijing.
Participants will begin daily training soon and large rehearsals will be held in the middle of the night past the Tiananmen Square, with heavy armored vehicles in place.