CHENGDU: Xie Sheng, a local resident, was all smiles Monday afternoon when his wife Wu Xiaoli was discharged from the Chengdu Military Region General Hospital.
Wu injured her back in the stampede that broke out after a freak blaze engulfed the No 9 bus running from Tianhui town in the northern suburbs of Chengdu, capital of Sichuan province, to the Chengdu North Railway Station last Friday.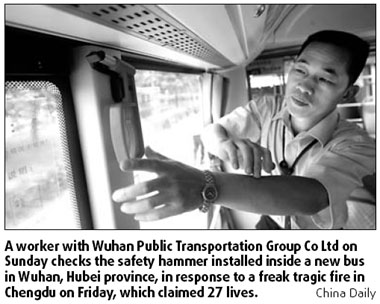 The inferno claimed 27 lives.
"We just feel extremely lucky to have come out of the tragedy alive," Xie told China Daily.
His wife Wu was one of nine patients discharged from the Chengdu Military Region General Hospital yesterday.
"All the nine patients suffered minor injuries," hospital chief Cao Yong said in a ceremony held yesterday afternoon to celebrate the patients' recovery.
Cao said many of the 35 people undergoing treatment in his hospital were in a "serious condition" as they had inhaled harmful substances while the bus was burning.
Twenty-three experts from different parts of the country are joining medics in Cao's hospital to treat the 35 patients.
To provide the best care for the injured, the Ministry of Health has "sent five top experts" from Beijing and Guangzhou to Chengdu, according to Yang Wei, chief of the Chengdu municipal health bureau.
As of press time on Monday, seven of the 63 people still receiving treatment in six Chengdu hospitals were in critical conditions, said Zhao Wanhua, chief of the Sichuan provincial department of health. "They may die at any time," she said.
Related readings:


 Chinese cities inspect bus facilities


 Bus company boss quits after fatal fire


 Arson not ruled out in bus inferno


 Bus fire probe: Someone brought gasoline on board


 Death toll in China bus fire rises to 27


 Sabotage cannot be ruled out in fatal bus blaze


 25 killed in bus blaze in Chengdu city
Chengdu State-owned Assets Supervision and Administration Commission Monday accepted the resignation of Li Shuguang, chairman of the bus operator Beixing Bus Company under the Chengdu Public Transport Group Co.
"Strict penalties will be meted out to those responsible for the tragedy once we determine the cause of the blaze," said Lai Siguo, deputy chief of the commission.
"Inspectors check the tyres, lamps, brakes, doors and circuits of each bus three times a day.
"Hammers have been installed on each bus to make sure passengers can break windows to escape in case of an emergency," Lai said.
Though the bus that caught fire was equipped with hammers, panicky passengers did not know how to use them, officials said.
Police do not rule out arson and are "still investigating the case", according to the information office of the Chengdu municipal government.
Evidence from witnesses and forensic work indicated the fire was fueled by gasoline carried aboard the bus by an unknown person or persons, chief investigator He Jiansheng was quoted as saying on government websites Monday.