HOUSTON -- Young Chinese pianist Haochen Zhang won the gold medal at the Thirteenth Van Cliburn International Piano Competition, organizers announced Sunday.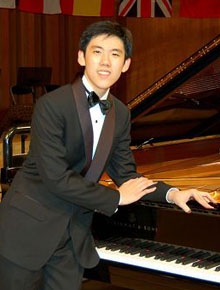 Undated file photo of Chinese pianist Haochen Zhang. [file]

Nineteen-year-old Zhang, the youngest participant in the contest, shared the first prize with 20-year-old Nobuyuki Tsujii, from Japan, after 17 days of competition. The silver medal went to Yeol Eum Son from South Korea.
The awards ceremony was held Sunday at Fort Worth in the US state of Texas.
Van Cliburn International Piano Competition, one of the top five piano competitions in the world, was launched 47 years ago in honor of American pianist Van Cliburn and is held every four years.
The competition is considered as one of the most demanding and challenging competitions of the entire Western piano world, consisting up to three full recital programs, new work performance, chamber music, and two concertos for each competitor.
After global screening early this year in China, Germany, Russia, Switzerland and the United States, 30 among 250 applicants had been chosen for the preliminary round of the thirteenth Van Cliburn piano competition.
Nine of the competitors are of Chinese descent, the first time in the competition's history, organizers said.
Haochen Zhang, who gave his debut recital at the age of five, moved to the United States at 15 to attend the Curtis Institute of Music. He was the first-prize winner of the 2007 China International Piano Competition.
Zhang's compatriot, Di Wu, was among the six finalists at the competition.
Besides medals and cash awards, winners at the competition will also be granted with concert engagements in the United States, Europe and Asia.