Tiny-tots reciting nursery rhymes at a primary school situated a stone's throw from a local zoo in Rudong county, Jiangsu province, had no idea what was coming for them on Wednesday morning.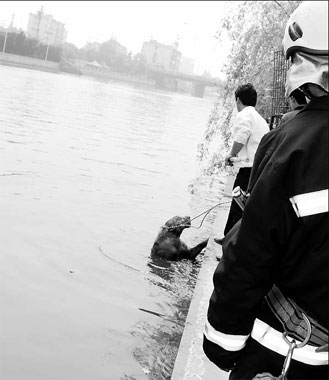 Police pull out a lion from a lake after the animal made a futile attempt to escape the People's Park in Rudong, Jiangsu province, on Wednesday. The police shot the lion with three tranquilizing darts to recapture him. [Photo by Li Gen/China Daily] 
It was a lion.
The local fire brigade averted a possible catastrophe when they managed to recapture a two-year-old lion after the ferocious animal escaped of its cage in the country's People's Park and jumped into a canal in a bid to swim across to freedom, and a possible bite.
A park official, requesting anonymity, said the lion broke out of its confines as its "feeder failed to lock the cage properly" on Wednesday morning.
The feeder admitted he was "distracted by a rat that had entered the lion's cage" and left the gate open for a few seconds.
The lion sprinted down to the end of the park driveway, with unprepared security guards on its tail, plunged into a canal and started swimming.
"It was early in the morning, and luckily there weren't many visitors around," said a staff surnamed Zhou, adding it was "a scary sight of a huge lion running free".
The local fire brigade rushed to the scene and evacuated nearby residents and school students from the area.
Related readings:


 Panda cub born to Bangkok zoo


 Zoo visitors watch in horror as white tiger mauls keeper


 Porcupine, python strut catwalk for Russian zoo


 Zoo wants to find male bears for female bears
Firemen shot the lion with tranquilizing darts while it was still trying to paddle across the canal before pulling it out of the water with the help of a rope.
Park officials said the lion was put back into its cage soon, and visitors strolled around the park as usual yesterday.
The lion's feeder was let off with a warning after being questioned for his carelessness.