Related readings:


 Low-income housing fund to swell


 Housing rebound points to recovery


 Q1 housing completion falls 60 pct


 Housing exporter feels foreign chill


Housing prices may 'fall sharply'
The government's decision to slash the minimum financial requirement for commercial property investment for the first time in 13 years, will help ease property developers' capital strain and stabilize housing prices, analysts said.
The minimum amount of capital needed to jumpstart a new commercial property or an affordable housing project has been lowered from 35 percent of the total project cost to 20 percent, the State Council said in a statement on Wednesday.
The move was taken as a key adjustment in the government macroeconomic measure to buck the economic downturn and revitalize the ailing property market.
The last adjustment in this regard goes back five years, when the government raised the minimum capital requirement ratio to 35 percent to cool down the sizzling real estate market. At that time, Chinese commercial banks were not allowed to extend loans to real estate developers who have initial capital of less than 35 percent of the property project's total investment.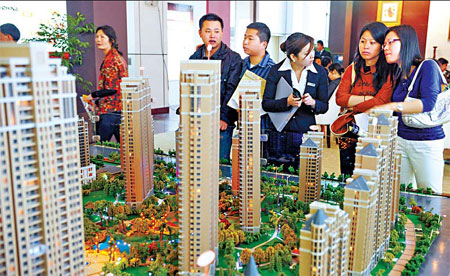 Visitors check property models at a real estate fair in Fuzhou, Fujian province. [China Daily]
Analysts said the current reduction of financial requirement indicated a lowered threshold for real estate developers to apply for bank loans.
The country's real estate sector began to slow as the global financial crisis took a bigger than expected toll on the Chinese economy.
The momentum for real estate investment, a key driver of China's domestic expansion contributing a quarter of the country's total fixed assets investment (FAI), is quite weak by far, which is in stark contrast to the country's galloping FAI growth this year.
In the first quarter, China's real estate investment grew at a mild pace of 4.1 percent, reaching 488 billion yuan, down 28.2 percentage points from a year earlier, compared to the 28.6 percent FAI growth, or 2.36 trillion in value for the same period.
Analysts said the contrasting figures reflected sluggish private investment and the adjustment aims to boost real estate developer's sentiment for new investments and help stabilize commercial property supply.
Liu Yuanchun, deputy head of school of economics at Renmin University of China, said real estate investments may start to pick up in the second half of this year thanks to government stimulus measures.
"The 15 percentage points reduction in financial requirement ratio is expected to release 300 billion yuan for investment in new property projects," Liu said.
"The move will boost market vibrancy and increase property supply, and also help drag down property prices," he added.
Home buyers, however, appear to hold a different view on the matter. According to a survey on Sina.com, the nation's largest portal website, over 60 percent of the respondents believed the move will ease capital strain of real estate developers and propel property prices.
Nearly 50 percent of the respondents felt that the measures would help the property market recover.