Chongqing will do genetic tests on some 1,000 children to select 50 of the "most gifted" among them and train them in a bid to foster extraordinary talents in the southwestern municipality.
The Chongqing Children's Palace, a training center for kids, where famed pianist Li Yundi was groomed for nine years, is organizing the program.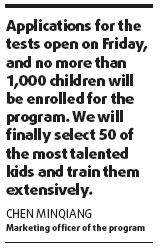 "Applications for the tests open on Friday, and no more than 1,000 children will be enrolled for the program. We will finally select 50 of the most talented kids and train them extensively," Chen Minqiang, a marketing officer of the program, told China Daily over the phone.
"We want to see more talents like Li Yundi emerging from Chongqing," he said
The genetic tests will be done by Shanghai Biochip Co Ltd, one of the national centers for biochip design and engineering.
"We will take cells from the children's oral mucosa and send them to Shanghai for the tests," Chen said, adding that the screening will be able to identify 13 traits, including intelligence, emotional quotient (EQ) and athletic ability.
Gong Kang, an official at Shanghai Biotech's health department, said the concept of discovering talents through genetic tests was "not new" in China.
"The tests have been ongoing since last year and quite a number of children in Beijing and Shanghai have already been screened," he said.
Gong said genetic screening gives a "scientific reference for grooming a child" and "cannot uncover specific hidden talents".
"The tests can't tell you if the child should learn to play the piano or the flute," he said.
The children's palace has also invited experts in psychology, heredity, dance, art, music and sports to spend five days with the children at a camp to judge their talents.
Related readings:


 Africans have world's highest genetic diversity


 Greatest genetic variation in Africans


 Study: Love at first sight might be genetic


 Genetic abnormality may boost risk of blood diseases: study


 Genetic link may help cure blindness

The experts' suggestions as well as the genetic test results will be considered to select the final 50 children, Chen said.
"Each of the 50 kids will have an expert panel draft a training plan for them, after which they will be trained for a year at the children's palace," he said, adding that the experts will continue to check on the kids for the next few years.
Applicants for the program will "not be charged for the genetic test", which costs about 2,800 yuan, but will have to shell out nearly 3,000 yuan as fees for the camp and the experts, said Chen.
Many parents who have phoned the children's palace to inquire about the program have expressed doubts over the reliability of genetic screening.
"I believe your genes determine your talents, but I doubt a genetic test can reveal how gifted you are," said Beijing-based Meng Veina, mother of a five-year-old boy.
Other parents felt genetic tests are not necessary to discover children's talents.
"Talents are hereditable, and can be discovered without scientific tests. The tests will deprive parents of the joy of discovering and nurturing talents in their kids," said physician Zhou Li, mother of a six-year-old boy, from Jiangsu province.
Experts, too, are worried that the scientific approach to discovering hidden talents "could harm a child's psychology".
Yu Wei, a professor with the education science department of the Northeast Normal University, said: "Unbalanced training could result in the lack of necessary social skills in a child and can cause psychological problems.
"The gifted children may be excellent in a particular field, but lag far behind in other areas. Their lives will be destroyed if they are looked upon as tools or machines."
As extra curricular talents are now considered the key to the best high schools and universities in the country, more and more parents are pushing their wards to develop hobbies like playing an instrument, or painting.