BRASILIA - Brazilian President Luiz Inacio Lula da Silva Monday highly evaluated his recent China tour, calling it one of his most fruitful visits since he took power in 2003.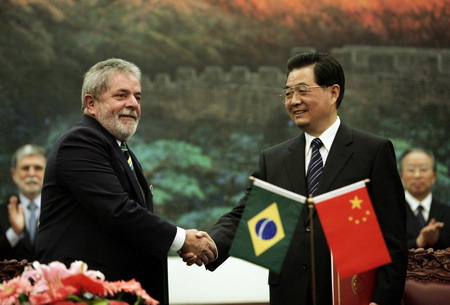 Chinese President Hu Jintao (R) shakes hands with Brazil's President Luiz Inacio Lula da Silva during a signing ceremony at the Great Hall of the People in Beijing May 19, 2009. [Agencies] 
"It is a trip, I would say, of all I have done, the best," Lula told his weekly radio program "Coffee with the President," hailing the achievements he made during his May 18-20 visit to China.
"We closed an agreement on chicken export, and we have good possibilities of closing another on meat," Lula said, adding that agreements have also been struck among the Brazilian Bank of Economic and Social Development (BNDES), the Bank of Development from China, the Bank of Brazil and the Itau Bank.
Lula said China showed great interest in investing in Brazil.
During Lula's visit, the two countries issued a joint communique to boost their strategic partnership.
Chinese President Hu Jintao and President Lula stressed the great importance to maintain economic growth and strengthen bilateral trade amid the international financial crisis. They vowed to promote cooperation and remove obstacles to custom and quality control so as to facilitate bilateral trade.
Both sides encouraged institutions and enterprises to invest in infrastructure construction, energy, mining, agriculture, industry, and high-tech industries.
In April 2008, the Brazilian authorities announced that China would become Brazil's major business partner, surpassing the United States for the first time.