GUANGZHOU: A bridge that has gained a reputation as a macabre tourist destination after attracting at least 12 would-be suicide jumpers since the start of April was the scene of a bizare incident this week in which a passerby pushed a man who was threatening to jump.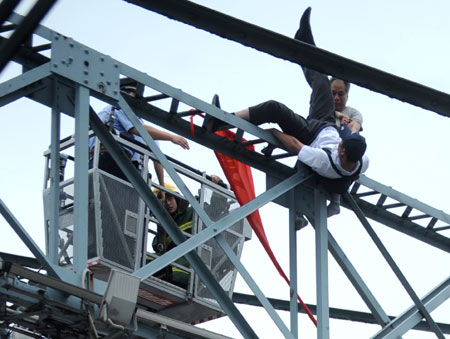 A man named Chen Fuchao who threatened to kill himself on Thursday is pushed off Haizhu Bridge by a 66-year-old person,Lai Jiansheng in Guangzhou, south China's Guangdong province, May 22, 2009. [CFP]
The passerby was agitated by the fact that the would-be jumper had held up traffic around Haizhu Bridge for almost five hours.
Related readings:


 'Suicide' epidemic has city reeling

 Teen survives after attempting suicide to save dad


 Cops thwart online group suicide bid in S.Korea


 Suicide tops student-killer list
None of the 12 who threatened to jump has done so, although each has held up traffic for several hours.
In the latest case, a man named Chen Fuchao threatened to kill himself on Thursday after saying he was in 2 million yuan of debt following a failed construction project.
After being pushed off the bridge, Chen fell 8 m onto a partially-inflated emergency air cushion. The 66-year-old person who pushed him, Lai Jiansheng, had broken through a police cordon and climbed up to where Chen sat.
He greeted him with a handshake before pushing him off the bridge.
Chen damaged his spine and elbow in the fall.