She was found abandoned near a farmers' market in Yangzhou, Jiangsu province, in July 1999, two months after she was born.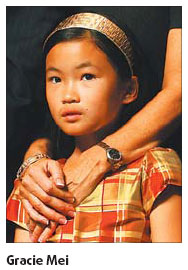 Caretakers at a local welfare center named the baby Yang Leyi, after a pair of eyes that seemed to smile and with a wish that she would lead a happy life.
Half a year later, on Dec 12, Leyi met Jon Huntsman and his wife, Mary Kaye, at the center.
The couple knew the baby was meant for them the moment they set eyes on her, local newspaper Today Morning Express reported on Monday.
Jon Huntsman Jr., 49, who speaks fluent Putonghua, is US President Barack Obama's nominee for ambassador to China.
Leyi, whom the Huntsman family named Gracie Mei, is one of the couple's seven children. The couple's other adopted girl, Asha Bharati, was born in India.
Huntsman is the Republican governor of Utah and the son of billionaire philanthropist Jon Huntsman. His family founded chemical company Huntsman Corp, which has operations in China, including a factory in Shanghai.
During Spring Festival in 2006, Huntsman is reported to have sent a card and photo of the family to staff of the center in Yangzhou to tell them how fortunate and happy they are for having Gracie Mei.
"We all love our little princess so much she brings enormous happiness to us," the paper cited the card as saying.
The center's employees were elated upon hearing of Huntsman's nomination for ambassador.
"Jon Huntsman adopted our child and now he is nominated the US ambassador to China. We are proud of him," the paper quoted Huang Wenlong, director of the Yangzhou Social Welfare Center, as saying.
The center also intends to organize a trip to Yangzhou in September for those like the Huntsman family who adopted Chinese children, so that the youngsters better understand their roots.
Families from 17 countries have adopted about 110,000 Chinese orphans, the Ministry of Civil Affairs said in March.
Families in the US rank first among these countries for the number of Chinese children adopted, with about 70,000 orphans joining American homes in the past decade.
China Daily