Hungary, officially the Republic of Hungary, is a culture-rich country that gives birth to prominent composer Franz Liszt, and its capital Budapest is regarded as one of the most beautiful urban landscapes in the world.
The European country announced recognition of the People's Republic of China on October 4, 1949. And two days later, the two countries established diplomatic relations.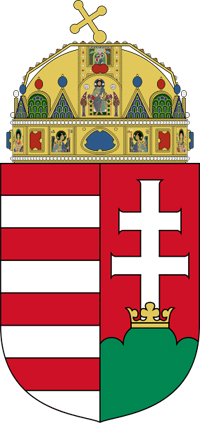 File photo shows the Coat of Arms of Hungary. [Agencies] 
Ever since then, there witnessed a comprehensive development in the friendly relations between the two countries, frequent mutual visits by their leader, constant expansion of cooperation in all areas, and the further deepening of friendship between the two peoples.
Hungary actively supported China, on its effort in the reunification of the motherland and restoration of its lawful seat in the United Nations, and on the issues of Tibet.
High-level mutual visits were frequent. In 1956, Vice Chairman Zhu De visited Hungary, and in January 1957, Premier Zhou Enlai visited Hungary. In September 1957, the Hungarian Government Delegation headed by Prime Minister Kardar Janos visited China, and the two sides issued a joint statement.
Since 1997 when China and Hungary signed the bilateral market access agreement, the two countries witness continuous trade growth in all around. The ongoing global financial crisis failed to dent bilateral trade which grew by 20% in 2008.
Hungary houses so far the largest population of Chinese businessmen in European Union. They play a active role the country's economic development, with their trading companies, Chinese restaurants, acupuncture clinics, bean-curd workshops, photo processing shops, hair saloons, travel agencies and hotels. As of 2003, the total amount of Chinese investment in Hungary was over US$100 million.
Sándor Kusai, the Hungarian Ambassador to China, when taking an interview with China Daily's website recently, expressed his confidence in bilateral cooperation.
"The biggest result that we have built up within the 60 years is a very solid foundation for moving forward with the mutual friendship," he said.