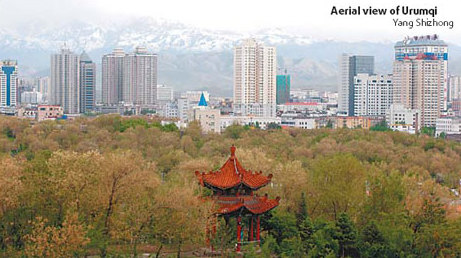 By 2010, simply by turning a dial, the majority of people in Urumqi, capital of the Xinjiang Uygur autonomous region, will be able to adjust the indoor temperature of their own homes. This will modernize the current system of constant central heating.
Outlining the advantages, Parat Abdukadir, deputy director general of the economic and trade commission of the Xinjiang Uygur autonomous region, said: "In this way, people can control the amount of energy, water and natural gas they use. This should save more than a quarter of the energy taken by the central heating system."
This is just one among a number of measures that the local government has taken in recent years to promote energy conservation and emission reduction. The result of these steps is that Xinjiang achieved its environmental protection target for the first time last year, in accordance with targets laid down as part of the Eleventh Five-year Plan (2006-10).
Abdukadir said: "The commission has already set this year's target for energy saving and emission reduction and will maximize its efforts to achieve still greater improvements".
Last year, the government allocated 34 million yuan to 12 local companies with serious environmental problems in order to assist them in reducing emissions and saving energy. It also invested some 1.4 billion yuan in the construction of the city's sewage treatment plant.
During the past decade, Xinjiang has shut down 1,444 small coalmines. This has left just 354 operating in the area, however, average output has increased from 20,000 tons to 150,000 tons, according to statistics from the local economic and trade commission.
The local government has also given a 2010 deadline to all local heavy industry operations to either meet stringent environmental guidelines or close down.
Since 2003, some 72 million yuan has been invested in Urumqi's 410,000-sq-m construction of energy conservation. This is part of the second group of model cities program, sponsored by World Bank and Global Environment Facility.
More than 2 million sq m of new buildings in the region have installed 19 sustainable energy systems, including solar energy and geothermal energy resources.
The result of these efforts has been a local energy saving of around 900,000 tons of standard coal, smoke output decreased by 31,500 tons, CO2 down by 2.4 million tons and SO2 by 21,600 tons, according to the commission's figures.
Abdukadir said: "Research and development into advanced techniques of energy conservation and new energy resources are also at the top of our agenda. We have 2 million yuan earmarked to subsidize the companies working in these areas."
Wind power generation and usage of solar power have made a major contribution to the development of the region. Around 80 percent of the wind power generators available in the domestic market are now made in Xinjiang.
Last year, 1.4 million energy saving light bulbs were provided in the region and sold at between 30 to 50 percent discounts. This year 2 million will be on offer, a move that is being keenly anticipated by a number of local residents.
One such resident is 66-year-old Li Xiujuan, who expresses that she regrets buying only three energy saving light bulbs last year. She, like everyone else, was entitled to a maximum of 10. "Cheap price but good quality" is her summation of the three she actually bought.
Han Xiaoyi, her daughter-in-law, said that Li had already asked every member of her family to buy 10 this year when the offer is repeated.
Summing up the local government satisfaction with last year's success, Abdukadir said: "We feel confident of achieving our target for energy conservation and emission reduction this year. We seem to have the support of every sector."
(China Daily 05/14/2009 page3)