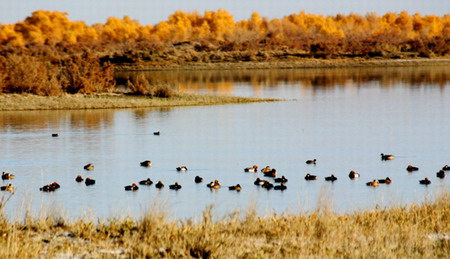 This undated file photo shows the scenery biside Tarim River in Yuli prefecture, northwest China's Xinjiang Uygur Autonomous Region. [File]
Authorities in Xinjiang Uygur Autonomous Region have invested 360,000 yuan (US$50,000) in a collection of nests and locals hope this will attract more birds to the area.
Hunting and pesticides have damaged populations of birds, such as sparrows, in recent years. Meanwhile, plant diseases and pests are multiplying rapidly, threatening crops, fruits and trees. In a bid to bring balance to the local environment, the region's forestry bureau is planning to build bird nests in Bazhou and Aksu prefectures in the hope that the feathered creatures will help restore the region's ecosystem.