A pig that became famous across China for its indomitable will to survive after it was pulled from the rubble 36 days after the May 12 earthquake has moved into a state-of-the-art new home.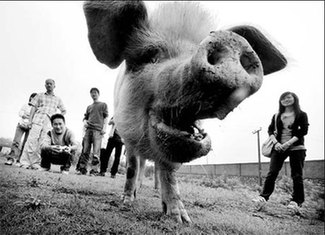 The strong pig, or Zhu Jianqiang, takes a stroll near the new museum. [China News Service] 
Zhu Jianqiang - or "Strong Pig" - has taken up residence in a facility provided by Chengdu Baisikang Biotech Co at Jianchuan Museum - China's largest private museum - in Sichuan province's Dayi township.
From its new home, the 2-year-old porker will meet the public, said the museum's planning department director Wu Zhiwei.
"A lot of people will come, because this pig has sent a powerful message to us humans about never giving up in the face of catastrophe," said Wu.
"She's not just a pig; she's a hero. And she has a special personality."
The pig's new residence stands just more than a hundred meters away from dozens of statues of famous Chinese people - among them Chiang Kai-shek and Mao Zedong - in the War of Resistance Against Japan (1937-45).
The porker was one of the main attractions on Monday during the unveiling of two halls at the museum that commemorate the May 12 earthquake.
Her new home comprises temperature controls and an absorbent floor that cuts down on the smell, Wu said.
Zhu Jianqiang survived on rain-soaked charcoal until June 17, by which time she had shed two-thirds of her weight.
Perhaps endowed with a newfound appreciation for food after her ordeal, she subsequently became obese.
"She got so fat she couldn't even walk, so now we walk her twice a day," said Wang Fuqing, her fourth caretaker since last year.
Zhu Jianqiang topped an online Red Net forum poll of the "10 animals that moved China in 2008".
China Children Publishing House will soon release a children's book, entitled Zhu Jiangqian, based on the sow's incredible tale. The museum hall - built by the local government - was designed by renowned Bird's Nest architect Li Xinggang for displays including recreations of crumpled buildings fashioned from actual rubble, a car crushed in the quake and a fire engine used during rescue operations.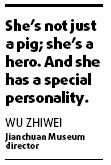 The hall, opened by the central government, will be oriented around photographs commemorating those who lost their lives.
Both halls, each more than 2,000 sq m, were open free of charge to the public on Monday.
Museum art director Guo Gang said the displays were a huge challenge for the museum to put together.
"We can't really represent the post-quake realities with 100 percent accuracy, but we have worked hard to get as close as we can to creating an environment like the real quake zone," he said.