The UK's top car designer, Peter Stevens, sees China's future on the wheels powered by electricity.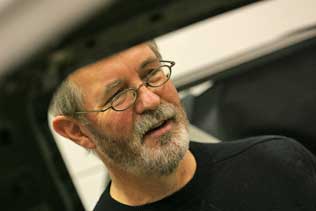 British car designer Peter Stevens. [file]
Stevens became one of the world's best-known figures in the industry receiving numerous honors for creating race cars for companies such as Lamborgini and Lotus.
The luxury car designer came to Beijing as part of the British Embassy's campaign to introduce UK talents to China.
Upon his arrival, Stevens was stunned by the number of electric bicycles on the streets.
"In London you don't see one [electric bike]; in Paris you don't see one [neither]," he said.
Stevens said Chinese manufacturers have mastered bike design and mass-production of electric cars could be the next step.
Related readings:


 China offers incentives to stimulate hybrid cars


 Toyota to make hybrid in Oz


 Green BYD aims to double car output


 BYD's car sales surge 80% in Jan


 GM introduces first hybrid for China
At the latest Detroit car show the Chinese automobile manufacturer BYD Auto displayed its first plug-in electric car hybrid F3DM.
By the end of this year, BYD, which produces 65% of the world's nickel-cadmium batteries, is planning to develop an environmentally-sound pure electric car.
The National Development and Reform Commission outlined China's ambitious plan to become the world's largest producer of electric cars by 2011, manufacturing up to 500,000 units annually.
To boost the production of battery-powered vehicles the Chinese government will contribute up to 80 percent towards the cost, making a Chery electric car, which normally costs around 70,000 yuan, available for buyers at just 10,000 yuan.
With this new government scheme the China Association of Automobile Manufacturers expects car sales in the country to reach up to 10 million this year and overtake the United States.
BYD Auto already attracted world's most successful investors, including Warrant Buffet, who according to the Caijing magazine, recently bought 9.89 percent share of BYD for HK$1.8 billion.
With such recent developments Stevens believes China has the potential to become the world's largest producer of electric cars in the near future.
But he said to repair the Chinese car manufacturers' damaged reputation for alleged copycat deeds, the unique style must be found using the country's cultural elements in design.