BEIJING -- A Chinese mainland male surnamed Bao, who recently returned from the United States, tested positive for the A(H1N1) influenza, China's ministry of health said Monday.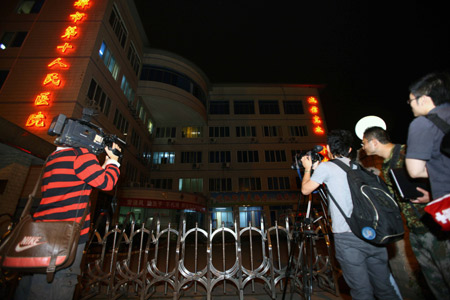 Media reporters gather outside the Chengdu Infectious Disease Hospital in Chengdu, Sichuan Province of China, on May 10, 2009. [Xinhua]
It was the first such case reported in the mainland. The 30-year-old patient was at the Chengdu Infectious Disease Hospital in Sichuan's provincial capital and those who had close contact with him were isolated for observation, the ministry said.
 

Full coverage

:


A (H1N1) Influenza Outbreak
Related readings:

 Mainland reports suspected H1N1 case


 US, Costa Rica A(H1N1) flu deaths reported


 Japan confirms fourth case of swine flu


 Costa Rica sees 1st H1N1 flu death


 China quarantines 7 flu-affected flight passengers


 No let-up in sight in the battle to contain flu
Bao took Northwest Airlines flight NW029 to Beijing on May 9, after making a transfer in Tokyo from St. Paul, Minnesota in the United States. He then flew from Beijing to Chengdu on Sichuan Airlines flight U8882 the same day.
Earlier reports said Bao developed a fever on the domestic flight, accompanied by a sore throat, coughing, nasal congestion and sneezing.
He went to the Sichuan People's Hospital after getting off the plane and was initially diagnosed as a suspected A(H1N1) influenza case based on his symptoms and laboratory tests. He was then transferred to the Chengdu Infectious Disease Hospital and is now "recovering."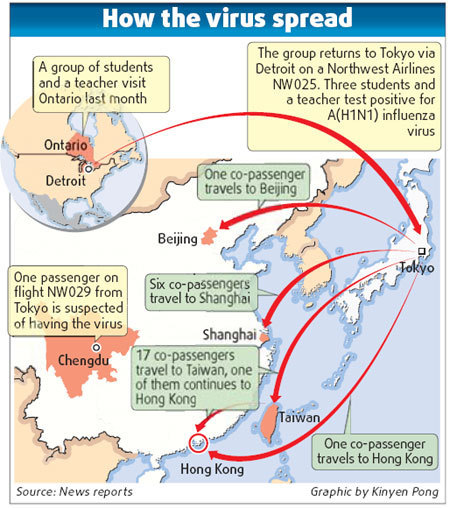 According to health ministry spokesman Mao Qun'an, most of the passengers aboard the flight from Beijing to Chengdu with Bao had already been tracked down and isolated at local health institutions in 21 provinces, municipalities and autonomous regions.
The Sichuan health department also said Monday morning that more than 130 of the 150 passengers from the flight were in quarantine.