The government needs to take stronger steps to make the public more prepared against natural disasters and improve early warning systems, experts said Sunday, two days before the first anniversary of the Sichuan earthquake.
Related readings:


 Quake survivors mourn as anniversary nears


 Rural land policies tested in China's quake zone


 China renovates railway to serve quake reconstruction


 Expressway under construction linking quake-hit Wenchuan


 Quake zones seek effective supervision over aid
The government will release its first white paper on disaster prevention and reduction on May 12, declared the country's first national disaster prevention day.
The Sichuan quake left nearly 90,000 people dead or missing, and caused an economic loss of between 700 billion yuan ($102.6 billion) and 978.6 billion yuan.
Provincial and regional governments have already begun campaigns to educate people on disaster prevention and emergency rescue. The Sichuan provincial government is distributing booklets and leaflets on construction guidelines, evacuation plans, landslide prevention and control of pests after natural disasters.
"The quake showed how ill prepared we were for potential hazards," said Wang Qizhang, deputy director of Sichuan government's secretariat. "Many people didn't know how to react or apply first aid".
"We must learn a lesson from this and enhance public awareness and people's self-protection ability," he said.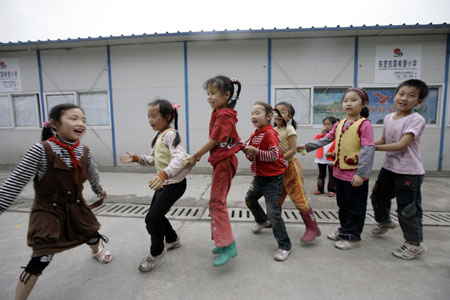 Sichuan earthquake survivors play outside their temporary classroom at an Earthquake Relief Hope School in Yongxing town of Mianyang, Sichuan Province, May 8, 2009. [Agencies] 
Disaster experts and officials called for setting up a nationwide information network to encourage the public to monitor and report potential disasters to local governments.
"Some losses can be avoided. An effective public monitoring and early warning system to alert people against floods and quakes could save many lives," said Wang Jiexiu, deputy director of the National Disaster Reduction Center of the Ministry of Civil Affairs.
The China Meteorological Administration will train 1 million people in rural areas to ensure every village has the information needed to combat weather-related disasters, center vice-director Xu Xiaofeng said.
Beichuan reopens
The old county seat of Beichuan, the worst quake-hit area, reopened Sunday to allow people to pay their respects to the quake victims.
The old town, flattened by the quake, has been opened only on special days such as the Tomb Sweeping Day in April. A ceremony will be held to start the reconstruction of the new county seat 23 km from the site of the ruins today.
Governments at all levels, including that of Beichuan, are racing against time to rebuild the quake-hit areas.
China's top planning body, the National Development and Reform Commission, said on Friday that the central government aims to finish most of the reconstruction work in two years, instead of the originally planned three.
But over-speeding reconstruction and unfair methods adopted to bid for projects may create quality problems in Sichuan's colossal reconstruction project, some have warned.
"Some (governments) may undermine the quality of construction if we try to run ahead of schedule," Zhu Ge, an official from Sichuan's Deyang city, said.
China Daily - Xinhua