CHENGDU -- Tourists from other parts of China swarmed to quake zones in southwest China's Sichuan province and during the May 1 holiday weekend.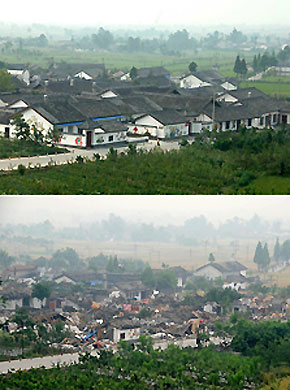 Penghua county in Mianzhu city of Sichuan province is seen before and after the May 12 earthquake in the file photos taken on August 2006 (above) and May 2008 (below). The Penghua county is a tourism attraction famous for traditional woodblock paintings, but was almost destroyed by the May 12 earthquake last year. The county began receiving tourists again from this year's May Day holiday. [Xinhua]
In Anchang town, about a 30-minute bus ride from Beichuan old county seat which was razed by the 8.0-magnitude earthquake a year ago, the sudden increased inflow of tourists forced local officials to put up a sign at a bridge to Anchang, persuading tourists to stop and turn back.
Also in Anchang, most hotels were fully packed with tourists, and prices of guestrooms rose by 50 percent in the three-day holiday.
Li Jiahua, a building material businessman from Tongliang County, Chongqing Municipality, was among the tourists. Li drove to visit the largest prefabs zone at Leigu town, also in Beichuan, May 2.
He joined a voluntary drivers' team transporting relief goods to Beichuan last year, and was assisting two quake-ravaged families there.
"I just want to know how they are faring with their life, and I should have come earlier if I had time," said Li.
The number of tourists to Mount Qingcheng and Dujiangyan, both well-known scenic sites 68 kilometers to the west of Chengdu, the provincial capital of Sichuan, rose by 30 percent from last year's figure to hit 80,000. Most of the tourists were from other parts of the country, said an official from the administration for Mount Qingcheng and Dujiangyan scenery.
Full coverage:


Sichuan, One Year On...
Related readings:


Taiwanese donate $98.5m to aid quake reconstruction


Beichuan tourism plan approved


Beichuan quake museum planned


Tourism reviving in quake zones


Quake museum to open in SW China on anniversary
Calamity
Sichuan, home to giant pandas, scenic nature reserves and ancient cultures, has long been a tourist destination. The devastating earthquake on May 12 last year not only left more than 80,000 people dead or missing, but also destroyed infrastructure as well.
The devastating earthquake caused severe damage to the Wolong base, where most of the country's captive pandas were kept. Five base staff were killed, as was one captive panda. Two pandas were injured and six were missing, five of which were eventually found.
Reconstruction in quake zones remains massive and has been listed as a key task by the State Council in the forthcoming years.
Quake ruins become tourism craze
Qingchuan, Wenchuan and Beichuan, three of the worst-hit areas in the powerful quake, are caught in a tight race in turning quake ruins into tourist attractions.
Qingchuan opened the first quake theme park, Donghekou, November 12 last year. More than 260,000 tourists have visited this quake theme park.
Beichuan county will not be willing to be left behind. It is the only Chinese autonomous county for Qiang, a minority of just 300,000 people. The Qiang people have a unique culture that can be traced to the Shang Dynasty (1600 BC-1046 BC), and was recorded in oracle bone inscriptions.
The Qiang, who call themselves "Ermea", literally "native people", are also known as the "people in the white clouds" because they usually live in ornately decorated stone houses in the upper reaches of the mountains, herding sheep and growing crops such as corn and cherries.
The old county seat of Beichuan was razed by the quake. The county lost two-thirds of its population in that day, with 15,600 confirmed deaths, and 4,700 other people still missing.
A state-level quake ruins museum park is in the pipeline. In accordance with the museum park construction plan, which was published in March, the projected museum park will cover eight square kilometers and will have three parts: a museum building, old Beichuan county town quake ruins, and a center for secondary disaster display and natural conservation.
At present, however, police guard the locked gate to the old county seat. Visitors walk near the gate or climb a nearby hill to look down on it.
Wenchuan County, the epicenter of May 12 quake, also has a plan for developing tourism by exploring quake ruins, with Yingxiu Township at the forefront.
Sandwiched by two mountains, Yingxiu was connected to the outside world by a bridge. It lost 5,462 of its 18,000 population, and 3,694 other people missing. Baihua Bridge, Yingxiu's only overland link to the outside, was also destroyed in the quake.
Large chunks of soil also collapsed from the two mountains during the quake, according to Jiang Yongfu, Party boss of Yuzixi Village, Yingxiu.
A new bridge is being built parallel to the quake-damaged Baihua Bridge which is left in ruins.
According to Jiang, Yuzixi Village, where 268 out of the 269 homes were destroyed in the quake, will build a tourist reception center, a cemetery for those who were killed in the quake, a quake ruins park, a memorial, and a museum of folkways and culture.
The village is attracting some 1,000 to 2,000 tourists each day, said Jiang.