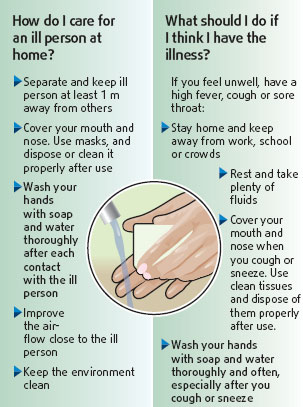 Sales of surgical masks skyrocketed and pushed prices up by as much as 300 percent at the Canton Fair, amid fears of an A(H1N1) flu outbreak.
Zhou Yuehua, from Guangdong Medicines and Health Products Import and Export Corp, said his company had almost sold out of masks following large orders from international buyers, including the United States and Mexico.
"The price of masks has doubled or even trebled. It is beyond our expectations," Zhou said.
An American businessman ordered more than 4 million masks from the company.
Related readings:


A(H1N1) Influenza Outbreak
Related readings:


 Quarantine measures 'proper and necessary'


 No flu sign on quarantined passengers so far

 Some fear flu rebound as Mexico seeks 'normalcy'


 Flu scare brings back memory of SARS


 787 H1N1 flu cases in 17 countries
"It will be hard for us to produce that within half a month because we only produce 300,000 masks a day," Zhou said.
The third session of China's largest trade fair opened in Guangzhou on Sunday with exhibitors displaying textiles, footwear, office equipment, bags, pharmaceuticals, food and medical products.
More than 17,400 international buyers are attending the event. In addition to masks, large orders have also been placed for pharmaceutical and medical products.
Participants from flu-affected countries, such as Mexico and the US, were required to undergo health checks before the event, the fair's organizer said.
Delegates can have their temperature tested at one of 60 locations and the venues are sterilized daily.
"The fair's organizer has introduced effective measures to guard against the virus," an American businessman said.
"Compared to the US, China is safe."
Meanwhile, Guangdong provincial authority introduced a price-intervention policy for masks and medicines, urging local people not to rush to pharmaceutical stores.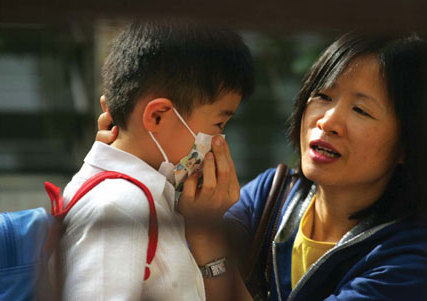 A woman helps her son put on a mask before he goes to school in Hong Kong yesterday. [China Daily/Edmond Tang] 
"Any stores or producers who engage in illegal activities such as colluding or hoarding to drive up prices will be punished in accordance with the law," the authority said.
There was also an increase in mask sales at other locations in China. A Shanghai sales assistant said many people purchased health masks and sterilized cotton balls after a Mexican man was diagnosed with the virus in Hong Kong.
"We sold several hundred masks during the holiday period," she said.
"Now we are out of stock and are not sure when supply will be restored because they are in such high demand."
Xu Jianguang, director of the Shanghai health bureau, said the city had sufficient reserves of drugs and medical treatments to respond to any outbreak.