In an effort to preserve the Mongolian Jangar traditional folk art and make it a renowned cultural emblem of Hebukesaier Mongol autonomous prefecture, the local authority introduced an unprecedented measure to run a Jangar junior performance training school.
The Jungar School, established in 1999, is located in the Menggeng Bulake village of Hebukesaier Mongol autonomous prefecture, where Mongolian ethnic people are the dominant population.
Mamuji Cairen, the school's headmaster, said there are currently 22 students attending the school. The curriculum combines ordinary school teaching, such as math and literature, along with Jangar singing and dance training in two classes for an accumulated six hours a week.
"After application into the school, all school-aged children in the village can enroll in our program. There are no additional charges, except for the purchase of their own traditional ethnic costumes," said Manuji.
As of now, more than 40 students have graduated from the school. Some graduates have pursued higher education at music and arts institution, while some are working in the local area and taking Jangar performance as a part-time job.
Training involves classroom teaching of three to four chapters of the Jangar epic. Teachers help students learn the lyrics and melody, and teach them how to express their emotions and how to interpret the epic.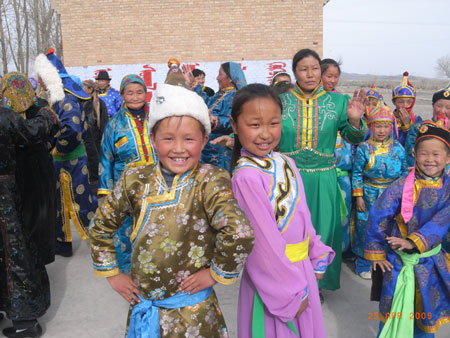 Pupils at Jangar school 
"Pupils are not required to learn Jangar after school; however, most of them do in their leisure because Jangar is their own hero's epic," Manuji said. "They learn the rest of the chapters by themselves."
Cicige, a 13-year old in the class, said she did not know much of the Jangar epic until she became a student at the school. "Jangar is our cultural treasure. I would be so happy if I could become a real Jangar story teller," she said.
Cicige's brother Saga said his dream is to become a professional Jangar performer. He has been a Jangar student for only one year, but is able to perform more than four chapters on his own.
"Singing Jangar is interesting; I learned some extra chapters by myself because my dream is to become a professional and famous Jangar performer," he said.
The 22-member troupe's reputation has gone far beyond the prefecture; they have staged performances in the region's Nadam fairs, and have been invited to perform in Kalamayi and Urumuqi.
"Our schedule is getting busier, which is good because performing is definitely a good experience for these young Jangar learners; they can step out of the classroom and accumulate stage experience. It is more rewarding," said Mengdesu, the school's head teacher and a Jangar performer for more than 27 years.
On a larger scale, the Jangar School plays an indispensable role in Hebukesaier's efforts to preserve its Jangar epic, according to Utunasheng, the county's official in charge of cultural relics protection.
In addition to training young Jangar performers, the county is also making endeavors to protect elderly performers in the region. They are invited to teach at training bases specially set up in the prefecture's villages.
The Hebukesaier prefecture also successfully joined hands with Bayingolin Mongol autonomous prefecture and Bortala Mongol autonomous prefecture for the application to enlist a Jangar representative work of China's intangible cultural heritage.
A Jangar research centre is also being slated to be built in the prefecture. Xinjiang Normal University has introduced a Jangar-oriented study program and offers MA degrees for program participants. The prefecture is also experimenting in new ways to forge its Jangar brand image. Domestic and foreign Jangar scholars and experts were invited to take part in the research the prefecture's Jangar cultural development.
The prefecture government will be building a Jangar cultural centre,with an investment of 10 million yuan. It will have a world-class library of Jangar research resources, exhibition room and V&A resources.
Collected evidence shows that the Jangar epic in Hebukesair may date back to the 17th century. There are more Jangar legendaries in Hebukesaier than in any other place, and of the 60 chapters published in Jangar Epic in Mongolian Language, 40 are collected from the prefecture.