The government Monday banned the import of pork and pork products from Mexico and the US states of Texas, Kansas and California to prevent the spread of swine flu that has killed at least 100 people in the Central American country.
All pork and pork products imported from Mexico and the three US states will either be returned to the suppliers or destroyed, the General Administration of Quality Supervision, Inspection and Quarantine (GAQSIQ) said.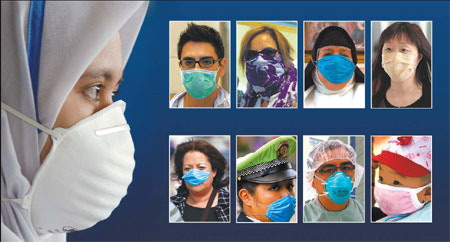 Masks are becoming a necessity across the world again, reminding us of scenes during the SARS outbreak in 2003, only this time the disease is swine flu and the threat is concentrated in Mexico and southern US. Clockwise from left (all photographs taken on Monday except mentioned otherwise): A Malaysian health official at Kuala Lumpur International Airport A passenger from Mexico at Barcelona airport A woman with a scarf tied around her face at Madrid airport A nun in Tlalpan, Mexico City, on Sunday A woman in a shopping mall in Hong Kong A baby in a Beijing hospital A medical staff member at a hospital in Singapore A police officer in Mexico City on Sunday A US citizen at the San Ysidro Port of Entry in San Diego on Sunday. [AP, Reuters and AFP] more swine flu photos
Though no swine flu case has been reported on the Chinese mainland, the Ministry of Health (MOH) has set up a working team to coordinate with the Ministry of Agriculture and GAQSIQ to monitor the situation and deal with any emergency.
The MOH has sought the advise of scientists, too, who have done sequencing of the swine flu virus, and contacted the World Health Organization (WHO) and the US and Mexican governments to get the latest information on the epidemic.
Full coverage:


 Swine Flu Outbreak
Related readings:


 Swine flu in Mexico killed 103 people


 Beijing on alert for swine flu


 UN chief: Swine flu becomes public health emergency of int'l concern


 Germany reports 3 suspected cases of swine flu


 Italy finds first suspected swine flu case


 Poland has sufficient drugs against swine flu


 Spain confirms first case of swine flu


 Panic in Mexico, US as killer swine flu fears spread


 Second suspected case of swine flu reported in Israel
The swine flu is a respiratory disease that infects pigs. Though normally it does not infect humans, people who come in close contact with pigs are vulnerable.
The deadly A/H1N1 strain of swine flu has infected more than 1,600 people in Mexico, and scores of others across the world. But the strain seems to be most potent in Mexico.
WHO spokesman for the Western Pacific region Peter Cordingley told AP Television News that the new virus was spreading quickly in Mexico and southern US, raising fears of a global pandemic.
"These are early days. It's quite clear that there is a potential for this virus to become a pandemic and pose a global threat."
"But we honestly don't know enough about how this virus operates. More work needs to be done," he said.
There is no effective method to conduct a test on the new virus, said Wang Quanyi, a researcher with the Beijing Center for Disease Control and Prevention (CDC).
But he asked people not to panic. "If people practice good personal hygiene, they can prevent infection," he said. The best way to avoid infection is to wash your hands often and avoid crowded public places.
Local governments have strengthened their monitoring systems to prevent the spread of swine flu.
The Beijing municipal health bureau, for instance, has asked hospitals to be prepared to deal with an outbreak of the disease. It has told them to monitor influenza-like illnesses more closely, and conduct epidemiological research and laboratory tests on such diseases.
Local swine flu patients will be treated in Beijing Ditan Hospital and Beijing You'an Hospital in case of an outbreak, said Deng Ying, director of the Beijing CDC. And foreign patients will be treated at Peking Union Medical College Hospital.
The Guangdong provincial CDC and health department have strengthened quarantine measures and are scrutinizing overseas visitors to the ongoing China Import and Export Fair in Guangzhou more closely.
In Hong Kong, Chief Executive Donald Tsang said the city, with its top medical facilities and preventive measures, was well prepared to deal with an emergency. Xinhua quoted Tsang as having said that since Mexico was a popular tourist destination for Chinese, it is quite possible for the virus to spread to Hong Kong.
Zhao Lei, of Herentang Pharmaceuticals in Beijing's Chaoyang district, said very few customers had enquired about swine flu. "There has been no increase in the sale of masks or medicines in the past couple of days," Zhao said.
Some people have been seen wearing masks, though, said Wang Lin, a subway Line No 5 security guard.
In Shanghai, however, the sale of masks, sterilized cotton balls and other sanitary products were up as the local government asked all departments Monday to step up reporting and surveillance on the disease.
"A lot of people have come for the masks," a saleswoman at a pharmacy said. Tamiflu, the anti-viral medicine being used to treat swine flu, is "in high demand now", she said.
Xie Chuanjiao, Lan Tian, Zhu Zhe, Wang Hongyi and Xinhua contributed to the story