A Beijing woman is suing a beauty salon owner because the 200,000 yuan she spent on beauty products have not made her look younger.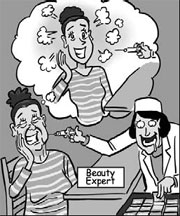 The woman surnamed Zheng bought the cosmetic injections that go by the name "Sinomos" from Zhang Xiujuan. The leaflets said the products could produce a youthful appearance and make you "20 years younger".
After no change in her appearance, she filed the lawsuit asking for twice the amount she spent.
(The Beijing News)