BEICHUAN -- A memorial service for an official who committed suicide in quake-devastated Beichuan County was held Wednesday, while experts urged more psychological aid for officials under the pressure of the demands of reconstruction.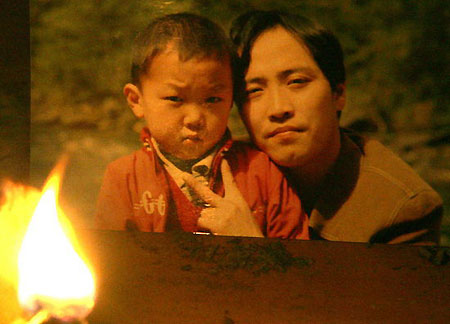 Feng Xiang, vice director of the public affairs department in Beichuan County, and his son Feng Hanmo are seen in this file photo released on April 20, 2009. [sina.com.cn]
Feng Xiang, 33, vice director of the public affairs department, hanged himself on Monday. His 7-year-old son was killed in last year's massive earthquake in southwest China's Sichuan province.
As per Feng wishes, his cremains were buried under a tree of Qushan Primary School where his son, Feng Hanmo, was also buried. Many officials cried at the ceremony.
Related readings:


 Sichuan earthquake claims new victim


 Official of quake-hit county hangs self


 Mental support for quake victims
Feng was the county's second official to commit suicide. Dong Yufei, 40, the agriculture commission head and disaster relief office director of Beichuan, hanged himself in October. Dong lost his 12-year-old son and other relatives in the quake.
"More than 400 county officials died in the quake, and 90 percent of the surviving officials lost their families. We are facing pressure from inner pain and the heavy job of reconstruction," said Jing Dazhong, Beichuan's county head.
Experts attributed the deaths and suicides of some quake zone officials partially to anxiety and overwork.
A survey conducted by Sichuan university showed more than 400,000 people are suffering Post-Traumatic Stress Disorder (PTSD). More than 40,000 of those suffering from PTSD are in danger of committing suicide, said Zhang Wei, deputy president of the West China Hospital under Sichuan University.
He led a two-year project to conduct crisis intervention for quake survivors in Sichuan.