BOAO, Hainan -- China is still not capable of "saving" the world, all by itself, from the ongoing financial crisis, said Zeng Peiyan, vice chairman of board of directors of Boao Forum for Asia.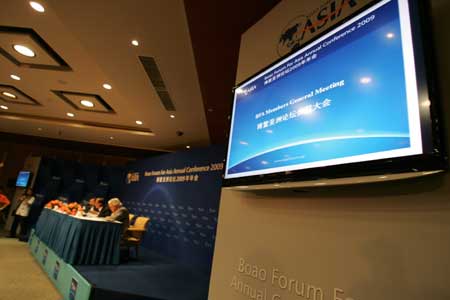 The Boao Forum for Asia (BFA) Members General Meeting is held in Boao, a scenic town in south China's Hainan Province, April 16, 2009. [Xinhua]
Zeng, former Chinese vice preimer, made the remarks when attending the BFA Annual Conference 2009, which starts on Friday.
Related readings:


 Boao Forum for Asia 2009 kicks off in Hainan


 Tackling global downturn tops bill at Boao


 Boao Forum to focus on Asia under financial crisis


 Boao may become much more than Asia's Davos
As the largest developing country in the world, China's role in the financial crisis should reflect a balance between its willingness and actual ability, noted Zeng.
China is willing to work alongside other members of the international community to monitor changes taking place in world economy, seek a satisfactory solution to the issues involved, prevent the financial crisis from spreading further through international cooperation, according to Zeng.
"There are many pressing issues to be addressed properly within the Chinese economy itself," said Zeng. "As the third largest and also the fastest growing economy in the world, China strives to take good care of its own people, maintain its healthy economic growth, and work hard to keep itself from being a burden on the international community, and these were a major contribution to the stability of a world economy and global international growth."
"The current financial crisis is a global challenge. It is only through strengthened cooperation and mutual assistance that we will be finally able to get over the crisis," he added.
Established in 2001, Boao forum is a pan-Asian platform of dialogue for key issues affecting Asia and the world. The theme of this year's annual conference is "Asia: Managing Beyond Crisis".