The government sees a "better than expected" trend in the economy following the "initial success" in implementing the $586 billion stimulus package rolled out last November to deal with the global financial crisis.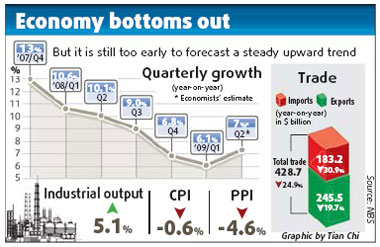 First-quarter GDP growth totaled 6,574 billion yuan ($960 billion), or an annualized growth of 6.1 percent - although it was much slower than last year's 10.6 percent, and a shade lower than the 6.8 percent of the previous quarter, the National Bureau of Statistics (NBS) said on Thursday.
Industrial output rose 5.1 percent year on year, much of the growth achieved in March, which witnessed 8.3 percent growth, the NBS said.
Retail sales rose 15.9 percent in real terms, up 3.6 percentage points from a year earlier.
A State Council executive meeting on Wednesday, presided over by Premier Wen Jiabao, said investment and domestic consumption rose, spurred by a healthy and credit-rich banking system.
Cao Yuanzheng, chief economist of BOC International, an investment service affiliated to Bank of China, said many major indices point to a recovery in the second quarter.
Dong Xian'an, chief economist of Southwest Securities, a domestic brokerage, said the "nightmare" of the fourth quarter last year seemed to have ended thanks to the "strong, visible hand" of the government.
Li Xunlei, research director of Guotai Jun'an, another brokerage, also said the economy is bottoming out. He forecast second quarter GDP growth of 7 percent.
There has been widespread speculation that the government would launch a new round of fiscal stimulus, but with the recent positive signs, it is unlikely that the State Council will do so in the near future, economists noted.
But still, the State Council meeting was cautious in claiming a decisive victory. It said it is still early to conclude that the upbeat signs point to a steady upward trend.
Industrial growth remains sluggish, it said, pointing out the "harsh external environment". Exports, which used to be a key engine of growth, have continued to see net declines. The meeting recommended that the nation prepare for a longer and more complex crisis, and to cope with it, announced:
The expansion of the bond market to accommodate more provincial government and corporate bonds.
The revision of investment approval rules to provide incentives to private investment.
More policy incentives for foreign investment.